The Golden Gate Bridge attracts millions of visitors a year, making it one of the most popular free things to do in San Francisco. If you're planning a visit of your own, here are more things to explore at the bridge's south end in the Presidio of San Francisco.
Golden Gate Bridge Welcome Center
The Golden Gate Bridge Welcome Center is where you can see authentic relics like hard hats and rivets from the bridge's construction in the 1930s, watch a short orientation video, and check out a 12-foot "test tower" used in 1933 to evaluate the bridge's design. Once you've explored the museum exhibits, pick up a map of the Presidio and buy a memento of your visit.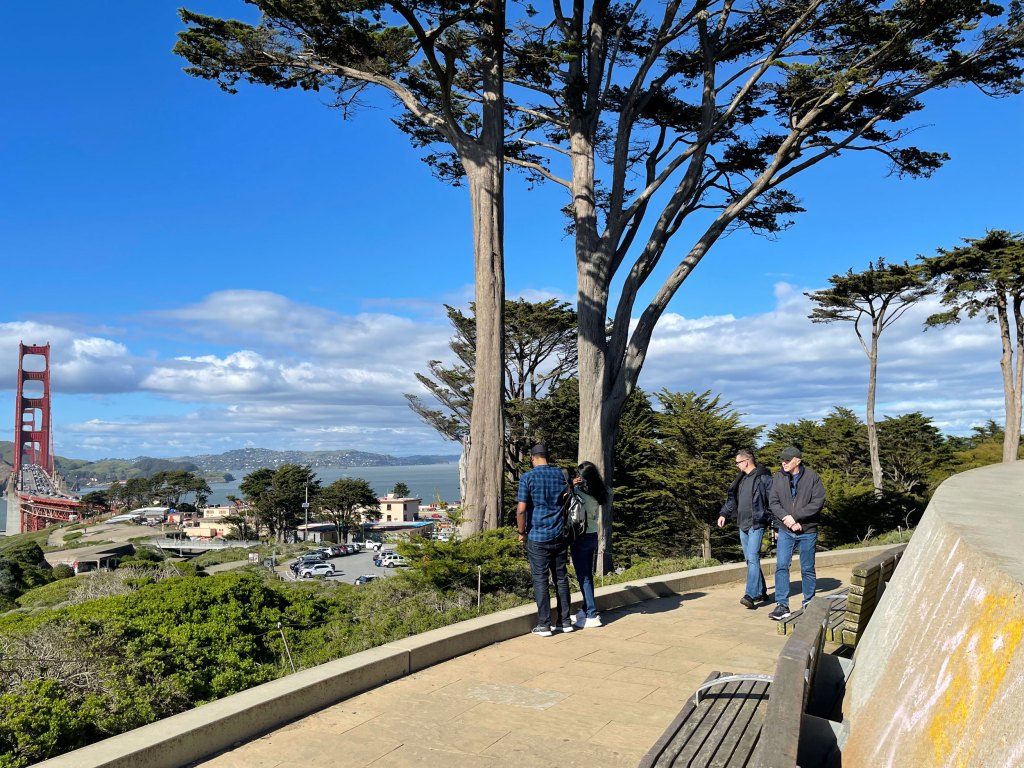 Golden Gate Bridge View Points
There are several spots to get a great photo of the bridge, including from the south plaza itself. From the California Coastal Trail, you can access three scenic overlooks. Battery East Vista showcases a remarkable view of the bridge from the east side. The Golden Gate Overlook gives you a unique view of both bridge towers perfectly lined up between graceful Cypress trees. And the Pacific Overlook offers an unimpeded view of the vast Pacific Ocean all the way from Lands End to the Golden Gate Bridge.
Golden Gate Trail Connections
If you want to explore more of the Presidio, you'll find connections to the California Coastal Trail, the Bay Area Ridge Trail the SF Bay Trail/Golden Gate Promenade, and the Presidio Promenade. Along these trails, you'll find even more stunning Golden Gate viewpoints, as well as a chance to spot native plants and animals that call the Presidio home.
History of the Golden Gate Bridge
When engineer Joseph Strauss' initial design for the Golden Gate Bridge was revealed in 1922, the press declared it "ugly" and architects doubted that a suspension bridge of its length could be structurally sound. Despite opposition, the majestic Golden Gate Bridge opened on May 27, 1937, to much fanfare.​​ The bridge's name is a nod to the Golden Gate Strait, the entrance between the Pacific Ocean and San Francisco Bay.
The Golden Gate Bridge we know and love is in an elegant Art Deco style. Engineer Strauss and architect Irving Morrow chose the bridge's color, International Orange, to stand out against the surrounding land, sea, and ever-present fog. Today, the bridge is regularly repainted to protect it from the corrosive salty bay air.