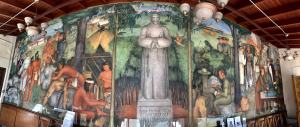 Based out of the historic Presidio Chapel, the Interfaith Center is an advocate of peacemaking among religious, globally and locally.
About the Historic Presidio Chapel
Presidio Chapel was built in 1932 by the Works Progress Administration for the U.S. Army. It originally hosted Protestant services for soldiers and their families, and later was used for interfaith worship. The building is in the Spanish Colonial Revival architectural style.
What to See at the Open House
The nave of the Presidio Chapel features high ceilings with original redwood beams, wrought-iron chandeliers, oak doors, and arched stained-glass windows by Willemina E.A.M. Ogterop, most of which were donated by veterans' organizations. An enclosed porch features a fresco designed in 1935 by Victor Arnautoff, who was also the technical director for the Coit Tower murals. The fresco, entitled "The Peacetime Activities of the Army," depicts the early history of the Presidio on the left, and contemporary activities of the Army on the right.
Elsewhere, you'll find the McDonald Peace Windows, created with shards of stained glass collected from bombed-out European cathedrals, synagogues, and chapels during World War II. See it all when the Interfaith Center holds a Presidio Chapel Open House – check the calendar for what's next.
San Francisco Concerts
Presidio Chapel Sunday Concerts at the Interfaith Center showcase a wide variety of cultures and musical styles. Most are free with a donation appreciated. Check the Interfaith Center calendar for details.
One of the Great San Francisco Wedding Venues
Presidio Chapel is available for rent for weddings, memorials, and other events. There is also a beautiful outdoor garden lined with flowers, grass, and mature trees. Learn how to rent Presidio Chapel for your special event.