Transfer Point: Presidio Transit Center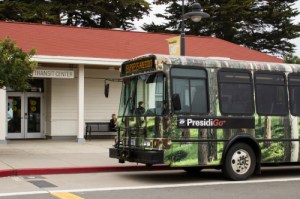 Muni 43-Masonic: The Presidio GO Downtown Route begins and ends at Presidio Transit Center, which is served by the Muni 43 in two directions.
Inbound to Fort Mason: The Muni 43 Inbound stops at the Tides Converge Campus and Letterman Digital Arts Center before exiting the Presidio onto Lombard Street. Use this bus for transportation to the Marina District and Fort Mason.
Outbound to Munich & Geneva: The Muni 43 Outbound makes stops on Presidio Boulevard within the Presidio before exiting into the Pacific Heights district. It then stops along Masonic Avenue, including the Panhandle, Haight-Ashbury, and Cole Street, which is just two blocks from Golden Gate Park. It continues through Inner Sunset, Forest Hill, and terminates in Crocker-Amazon.
Transfer Point: Van Ness & Union Street
Muni 49-Van Ness: Take the Muni 49 in the Outbound direction towards City College for service to Civic Center, Market Street, the Mission District, Bernal Heights, and Balboa Park.
Muni 45-Union/Stockton: Transfer to the Muni 45-Union/Stockton for service to Chinatown, Union Square, and the Caltrain Station.
Transfer Point: Davis Street & California Street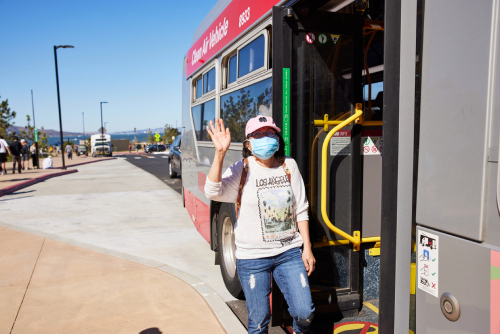 Embarcadero BART: BART – or Bay Area Rapid Transit – provides express service to select destinations in San Francisco, the East Bay, and the Peninsula. BART also serves both San Francisco International Airport and Oakland International Airport.
California Cable Car: Board the California Street Cable Car line on the three-way intersection of Drumm Street, California Street, and Market Street. This line goes through the Nob Hill district and has a stop near Grace Cathedral.
Ferries: The San Francisco Bay Ferry provides service to Oakland, Alameda, and Vallejo. The Golden Gate Ferry provides service to Sausalito, Larkspur, and Tiburon.
Muni Metro Light Rail: The Muni metro lines provide light rail service to many neighborhoods in San Francisco and can be quicker than using service transportation.
Transfer Point: Transbay Terminal
AC Transit: AC Transit serves Alameda and Contra Costa Counties. More than a dozen AC Transit Buses stop at the Transbay Terminal.
SamTrans: SamTrans bus routes KX, 292, and 397 stop at the Transbay Terminal and provide service to the peninsula.