Every other month, the San Francisco Amateur Astronomers bring telescopes to the Main Parade Ground and invite Presidio visitors to see some of the night sky's most interesting astronomical beauties.  At a recent event, we asked guests, "What does the night sky mean to you?"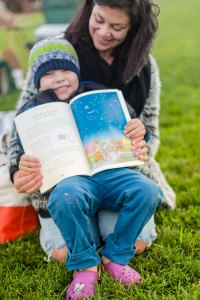 Sara Wilson and son, Ben, Inner Richmond
Sara: We've been trying to get to one of these stargazing parties for almost a year. I can't remember how Ben got so into astronomy. When he was really little he just started asking a lot of questions about the stars and space — questions I couldn't always answer. So I started buying books, and looking for activities. It's been really cool for our family because we've all learned so much about space, astronomy, and the constellations. He tells us all the time he's going to go to space some day. It makes me proud and terrified at the same time.
Ben (4): I looked through a telescope in Hawaii, and the telescope person had chocolate chip cookies. Hercules is my favorite constellation. I always look for it on daddy's phone. I'm going to look for Jupiter tonight.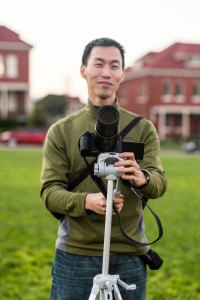 Greg Huang, South Bay
​This is the first time I've come to a public stargazing event. Usually I just go out on my own. This is a side thing for me. I'm a Trekkie – Star Trek and planetariums got me interested in space. I was really lucky in the South Bay because the high school I went to had a planetarium. I like being able to go into planetariums and see everything, but it's not the same, obviously, as getting out here in nature and seeing it. Fall and winter have the best signpost constellations. Orion points to everything. Once you find Orion, you can find anything.
Jayna, Maya, and Sonja Dighe (L-R), Outer Richmond​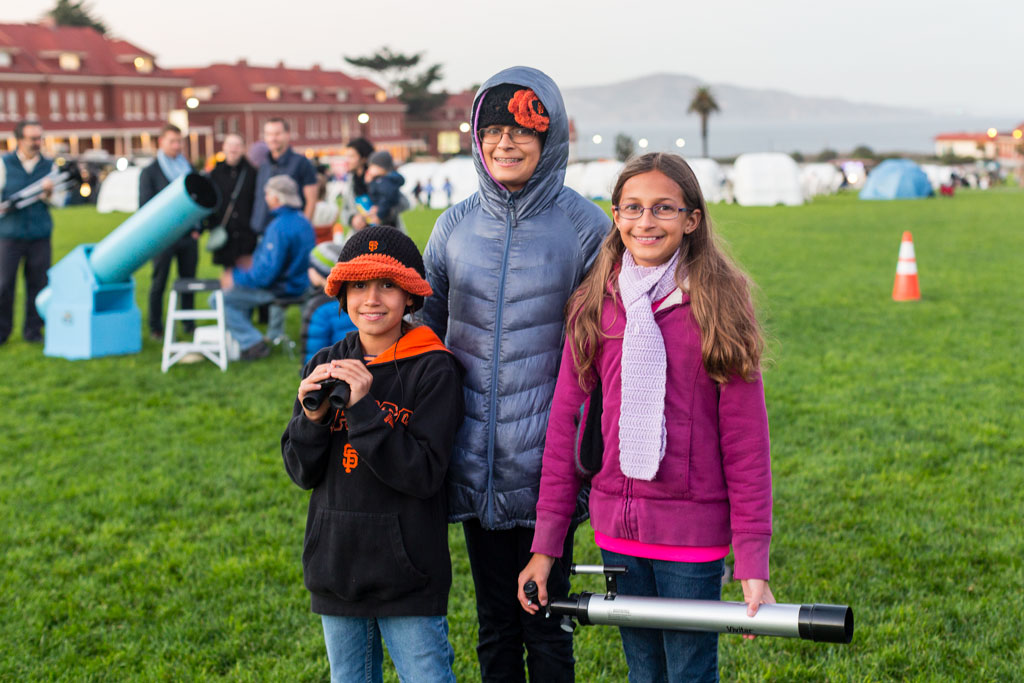 Annikki (mom, not pictured): We're going to be traveling overseas and seeing some interesting observatories in different countries, so we thought it would be fun to see the stars tonight and do a comparison.
Jayna (8):I'm looking for the American flag on the moon.
Maya
(13): I like looking at the moon and I also look for the North Star. I don't always succeed in finding them because I can't figure out which one is the big dipper and which one is the little dipper. Unless you see them together, it's very tricky.
Sonja
(11): I just like looking at the stars. I like to imagine what's out there beyond the stars – how many galaxies there are, that sort of thing.
Ria Lacher, Nina Ahluwalia, and Scott Juntti (L-R), Mission District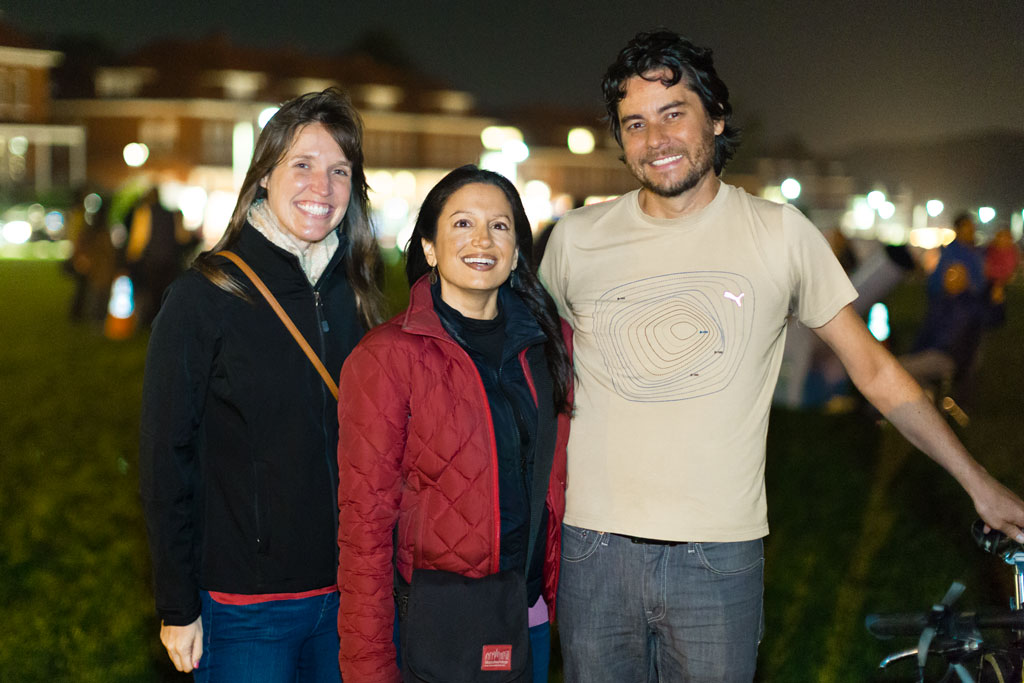 Nina: I was here at Twilight at the Presidio and my friend said, 'Hey, there's telescopes over there!' And I said, 'Let's go!' I've been to other events where I've talked to amateur astronomers and I could feel their passion. It's very cool. The view of the moon that we just got was amazing. It's so great that this event is here. You know how it is in the city when you get stuck in your own little world. I love where I live in the Mission. But then I come to the Presidio and it's like, this is so beautiful! And it's right in my backyard.
Ria: I'm looking for inspiration.
Scott: I'm looking for constellations. I only know about three, so it's usually the Big Dipper – the first one you learn how to find. Cassiopeia sometimes, too.
Kathleen McCowin and Garrett Moss, Outer Sunset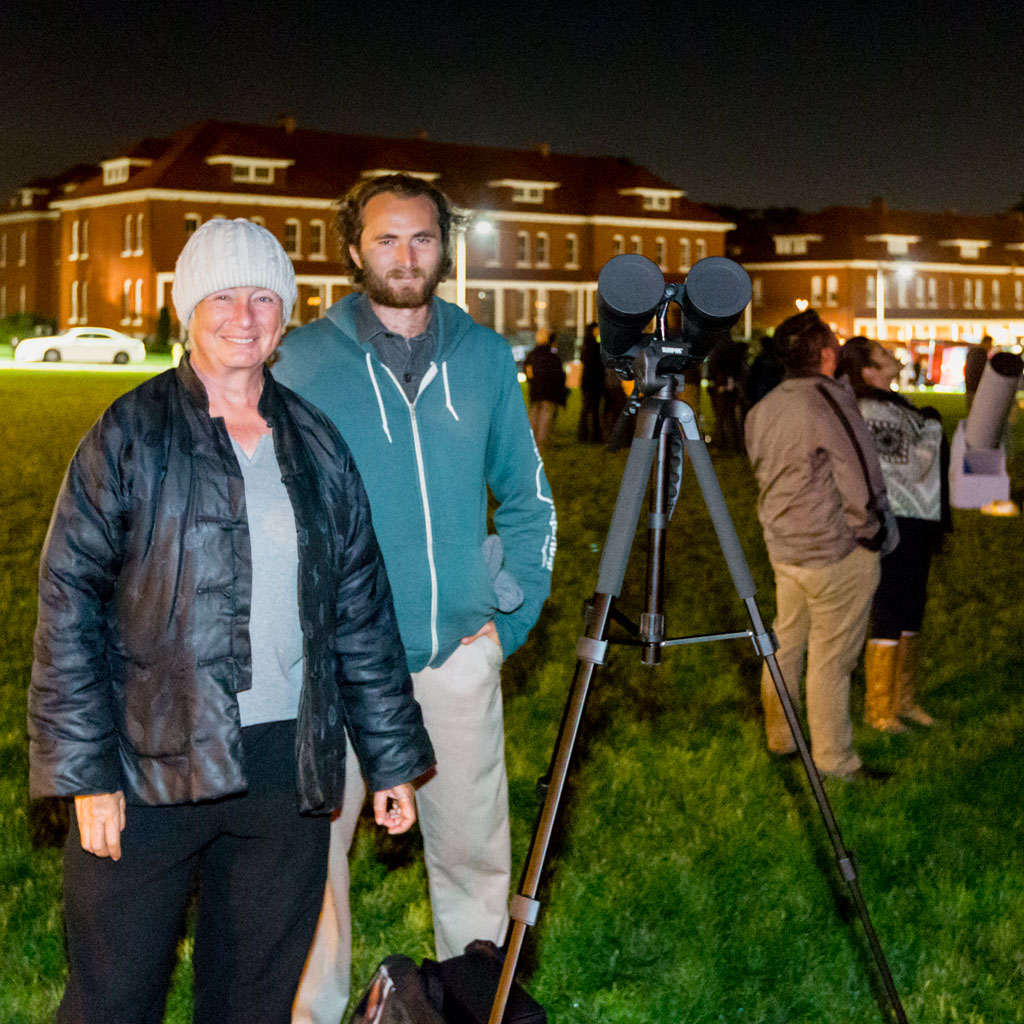 Kathleen: I like to sleep on my roof so I can see Orion rising in the morning. I finally had a deck put up there, with doors. I used to crawl out the window and pull out a mattress and sleep out there. I'm a patent attorney, so my kids have grown up as science nerds without realizing it. My daughter tells people that we used to bring home roadkill and dissect it.
Garrett: When I was six years old she got me a shark to dissect.
Kathleen: It was a surprise for his birthday.
Garrett: If I could see more stars, which is what I desire when I look up, I would be searching for my place in the universe, and using it to put things into perspective – both as an individual and as a species, as a life form. By attempting to comprehend this massive scale, it goes way beyond yourself. Everything in the entire universe is connected. Even though they seem really inconsequential. All of the tiny things are necessary for the gigantic things to happen.​
​Hosted by the San Francisco Amateur Astronomers and the Presidio Trust.​
Photos by Charity Vargas Photography