​​For decades the Presidio has illuminated a Norfolk Pine on the Main Post to celebrate the holiday season. The tradition continued on Friday, December 2, 2016, as friends and families gathered at our annual Holiday Lights: Tree-Lighting Ceremony. The Golden Gate Carolers performed seasonal favorites, guests enjoyed steaming hot cider, and just about everyone oohed and aahed when those lights went on.
We asked our bedazzled guests, "What brought you out and what's your favorite part of celebrating hol​idays in the Bay?"
Learn more about holiday activities in t​he Presidio >>​
Sign up to get Presidio Stories delivered straight to you inbox >>​​
Maribel De La Torre, Oscar Chora, and Andrew David Chora (Marina District)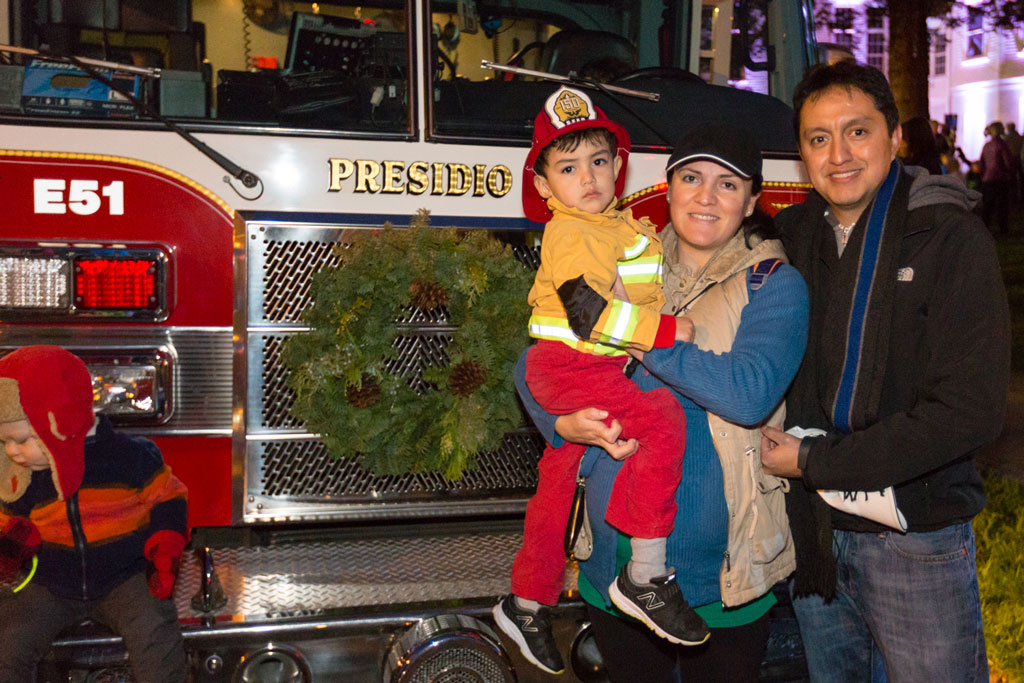 Maribel: I actually came here last year. I first started going to the Presidio Officers' Club and now I receive the newsletter and learn about events like this one. It's wonderful. My son loved last year's tree lighting – he actually remembered every detail of it and was excited to come to this year's Holiday Lights. He's even wearing his fireman costume because the fire truck is here!
Oscar: It's great to see all the kids and families coming together.
Maribel: I love celebrating the holidays here because you see so many families. Even though you're in the city, it gives you the feeling of community. It's wonderful. I didn't think you could get this in the city, but this is really amazing.
Genevieve, Andrew, Sullivan (7), Hudson (3), and Thatcher (3) Weks (Presidio)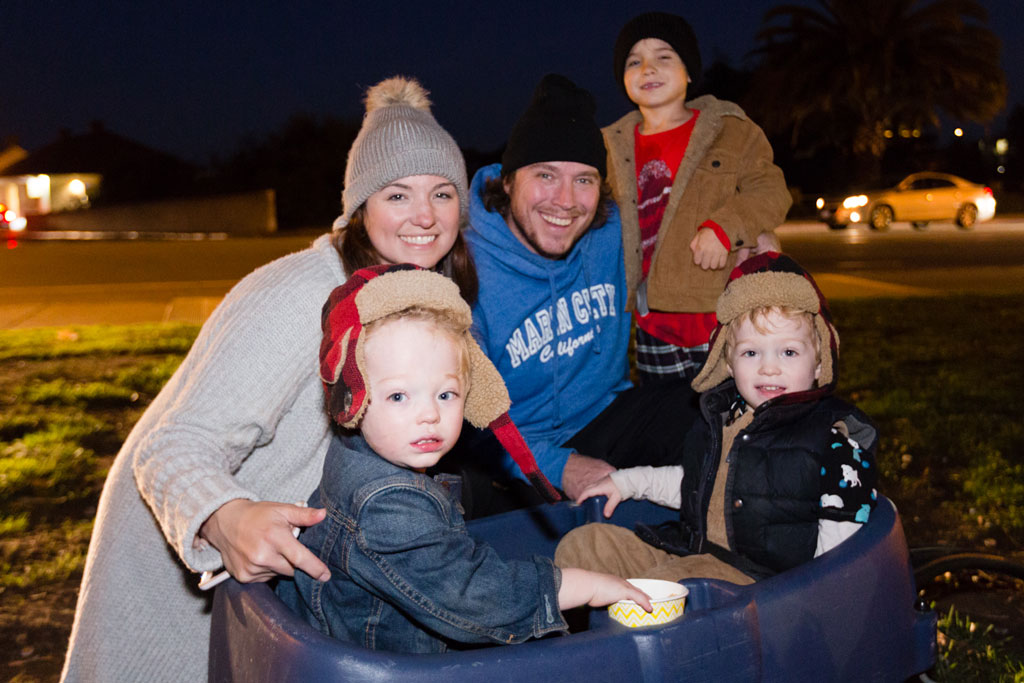 Genevieve: We're actually residents in the Presidio, so we heard about Holiday Lights from the newsletter​.
Sullivan: Tree lighting!
Genevieve: We actually come to Holiday Lights every year, so this is a bit of a tradition for us.
Andrew: Living in the Presidio, I like driving into the park at night and coming home to see the tree all lit up – it really gets you in a festive mood!
Jay, Tammie, and Ainsley (15 months) DeLong (San Francisco)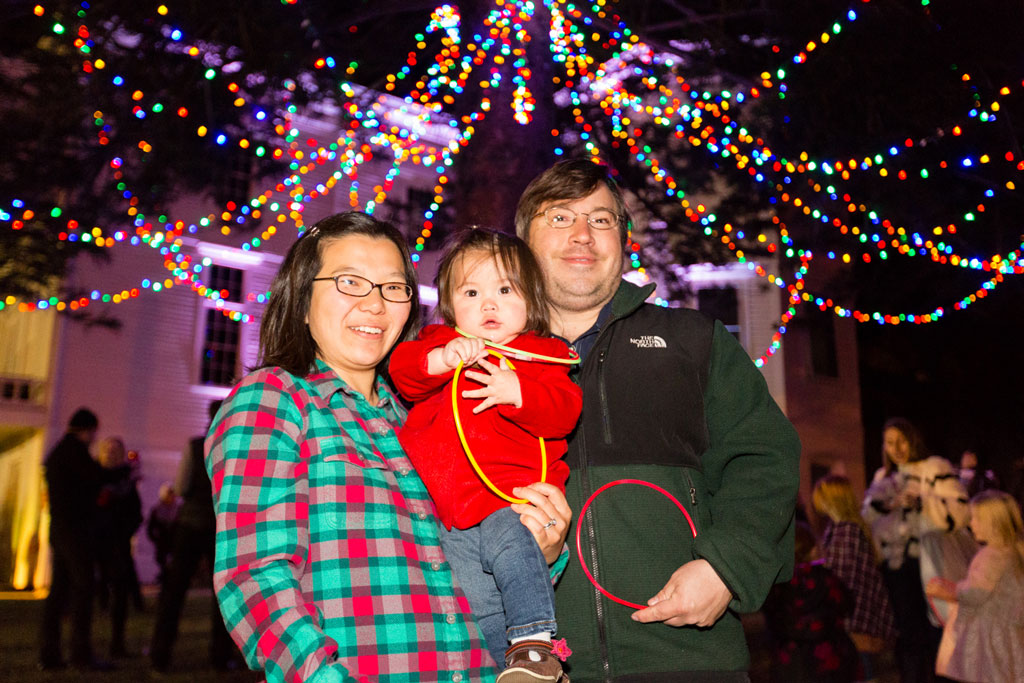 Jay: We've come to Holiday Lights the last couple years and we love to see the community come together here. And coming here and spending time with family is the best part about celebrating the holidays.
Tammie: It's so festive here!
Paul Gallegos and Leticia Marquez (San Francisco)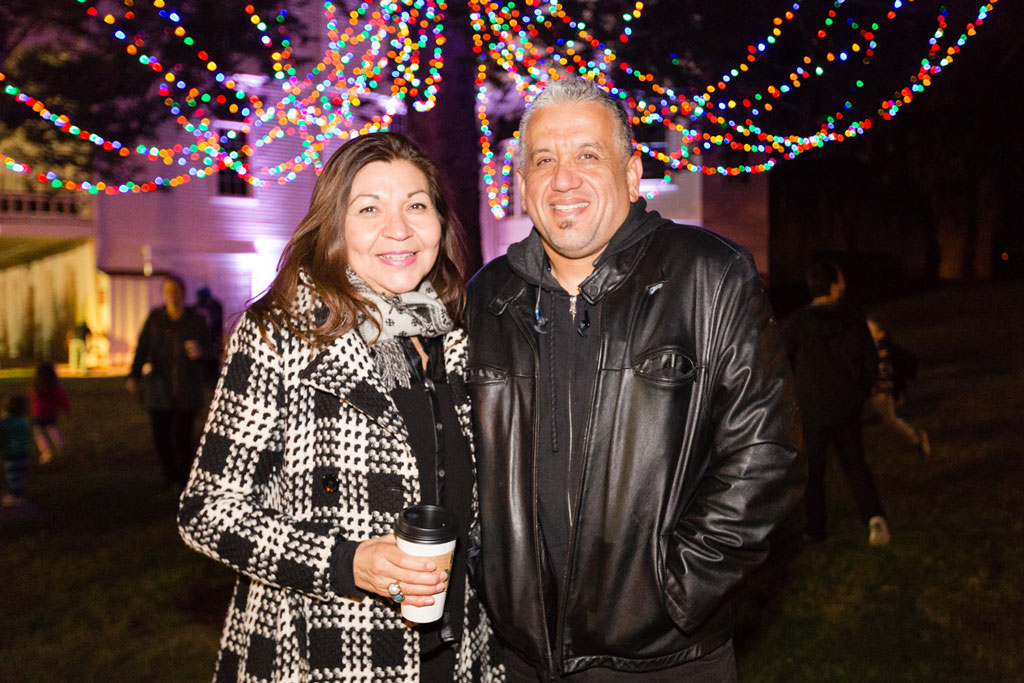 Paul: We go to the Y, so I saw the sign for it and we wanted to come tonight.
Leticia: This is my favorite part about celebrating the holidays here. All the kids running around and smiling – everyone's happy to celebrate together.
Paul: I like all the holiday music and the carolers – it's great.
Christoph, Rachel Lodge, Jack, Aliece (4), Jack (1), Phil Boissiere, and Rigley, the Christmas Dog (Marina District)
​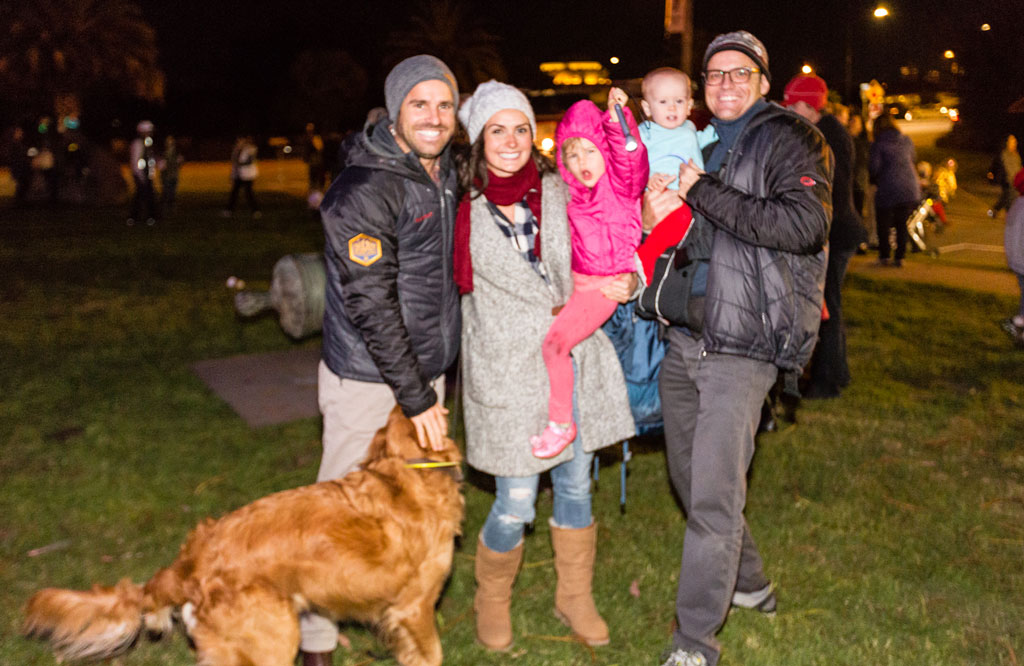 Christof: I found out about the tree lighting from an article in Marina Times.  I told my sister and my brother-in- law about it, and here we are.
Rachel: I like that we can do this outside and it's not too cold!
Christof: And our dog Rigley is a Christmas dog! He normally has his Christmas hat on, but he was too excited tonight.