You don't have to drive to Yosemite or Yellowstone to enjoy national park camping. Rob Hill's cypress-shrouded four acres make you feel like you're deep in the wilderness though you're just minutes from downtown San Francisco. Its group campsites are great for large gatherings of family and friends.
Make a Reservation
Rob Hill is open for camping from April 1 to October 31. Camping reservations are available on a six-month rolling basis via Recreation.gov.
Cost of Camping
As of 2023, reservations cost $92 per site, per night (Sunday through Thursday nights) and $140 per site, per night (Friday and Saturday nights). Additionally, discounted rates of $75 per site, per night are available to active and retired military personnel.
Facilities and Amenities
Rob Hill has four group campsites, with a maximum of 30 people per site. Each campsite features a fire ring, a charcoal BBQ grill, two food storage lockers, and four picnic tables. Campers have access to water, restrooms, refuse receptacles, bike racks, and four reserved parking spots per permit. View a map of Rob Hill Campground and read about the campground facilities and amenities.
Campground Rules
Learn about the campground rules that ensure a great experience for everyone.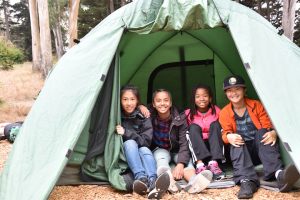 Making National Park Camping Accessible for All
The Monarch Week Program provides underrepresented communities from the San Francisco Bay Area an opportunity to experience camping at Rob Hill. During the 2024 camping season, the last full week of every month will be held back from public reservations. Learn about eligibility and how to apply.
Not for RV Camping in San Francisco
RV camping and vehicle camping are not allowed at Rob Hill or elsewhere in the Presidio. Learn about RV campsites and other campsites near San Francisco.