While San Francisco National Cemetery is a well-known burial ground in the Presidio, few are aware of this resting place for merchant mariners from across the globe.
Getting Here
Marine Cemetery Vista is behind the former U.S. Marine Hospital, today a housing community known as the Presidio Landmark. It's along the Mountain Lake Trail, a boardwalk that snakes through the native dunes.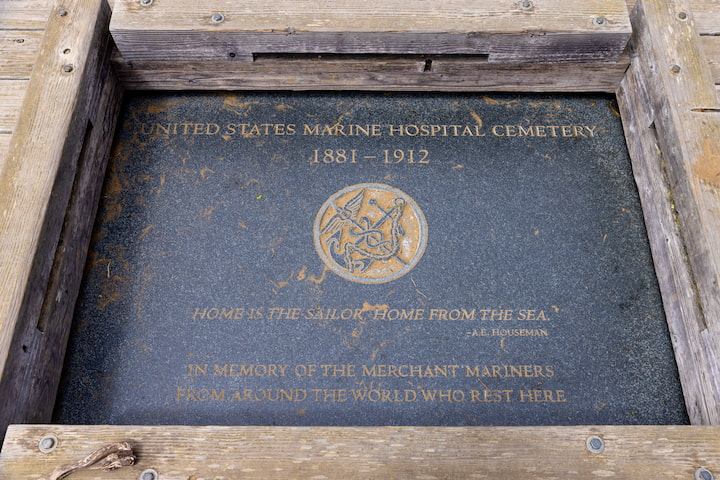 A Hospital for Sailors from Around the World
In 1875, the Treasury Department built a U.S. Marine Hospital here to care for ailing sailors from around the world. From 1881 until 1912, more than 500 mariners from 30 states and 43 countries who died and could not be returned home were buried here. As the years passed, the cemetery was forgotten and covered by a landfill. In 1989, the U.S. Army Corps of Engineers rediscovered it. In 2011, we created the Marine Cemetery Vista to make sure the long-departed sailors would not be forgotten again.
From Historic Hospital to Presidio Housing
In 2010, a residential community known as Presidio Landmark opened in the reimagined hospital. A year later, the rehabilitation of the building and the surrounding 36-acre Public Health District campus was honored with the Governor's Historic Preservation Award by the California State Office of Historic Preservation.
Hikes in San Francisco
The Public Health District where the Marine Cemetery Vista is located is near four Presidio trails: the Mountain Lake Trail, the Juan Bautista de Anza National Historic Trail, the Park Trail, and the Lobos Creek Valley Trail.