Inspiration Point was the very first scenic overlook to be built in the Presidio way back in 2001. It was made possible by a gift from the James R. Harvey Presidio Restoration Fund. Harvey was chairman of the Presidio Council, which helped plan the Presidio's future as a national park site in the early 1990s.
A Home for Endangered Plants
Grassland restoration below Inspiration Point began in the mid-1990s. Aged Monterey cypress trees were removed so that more sunlight could hit the hillside, allowing the endangered Presidio Clarkia wildflower and the Raven's manzanita to thrive. Monterey cypress trees are planted in other parts of the Presidio as part of our reforestation program.
Take a Walk on the Presidio Ecology Trail
The Ecology Trail begins right at the Inspiration Point plaza. Walk 1.4 miles down through many different habitats: wildflowers, Eucalyptus trees, and even a small Presidio Redwood grove. A spur trail connects you to El Polin Spring, where you can learn about some of the earliest Presidio inhabitants and watch hummingbirds dance in waters.
Stop for a Meal
One of the best restaurants in the Presidio is Ironwood Bar & Grill in the Presidio Golf Course clubhouse, right across the street from Inspiration Point. A beer and a burger can round out your visit.
Andy Goldsworthy's Spire
A 100-foot-tall sculpture  made from Presidio cypress trees is just a seven-minute walk from Inspiration Point Overlook. In fact, just turn around and you can't miss it.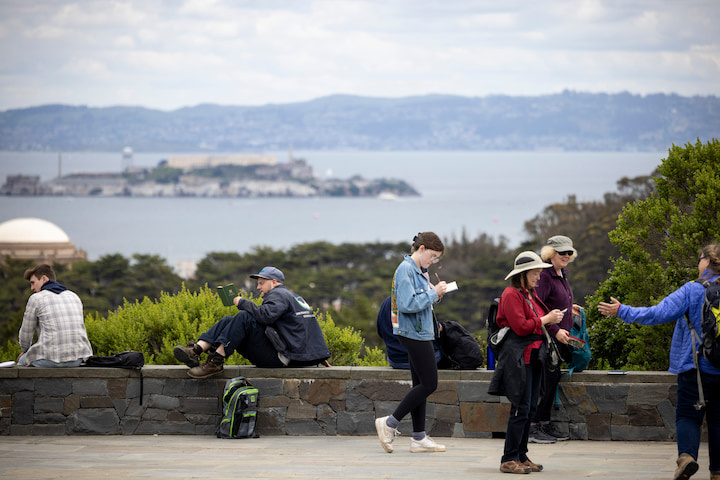 What are Those Buildings?
As you look down into the valley, you'll see 1930s era brick buildings alongside white townhomes. These are among the hundreds of houses originally built for U.S. Army soldiers and that are now occupied by park residents. Find out how to live in the Presidio.