At the core of the 30-acre Fort Scott campus are 10 Mission Revival-style barracks around a historic parade ground, now an expansive natural habitat supporting native plants and animals, including herons and hawks.
History of Fort Winfield Scott
Fort Winfield Scott introduced the Mission Revival architectural style to the Presidio and was one of the largest construction projects in its history. It housed and trained 1,000 artillerymen who operated the nearby coastal gun batteries like Battery Chamberlin. For much of the 20th century, it was also the site of the Coast Artillery headquarters for the seacoast defenses around the Bay Area. Rendered obsolete by 1950, the guns were removed from the batteries, and Fort Scott was used for other Army purposes.
Hidden History
Tucked away in an attic of one of the barracks (Building 1216) are murals painted by the 21st Engineer Company in 1956-57 when their commanding officer decided the walls of their training room were too boring. Covering all phases of Army life in vivid color, they provide a rare glimpse into life at the Presidio in the 1950s. When the building is one day rehabilitated, we hope to make this art available to the public.
Fort Scott Field
Fort Scott Field can be used by the public. Scheduling for organized teams, leagues, schools, and private use is determined by lottery. Learn more on the Presidio playing fields page.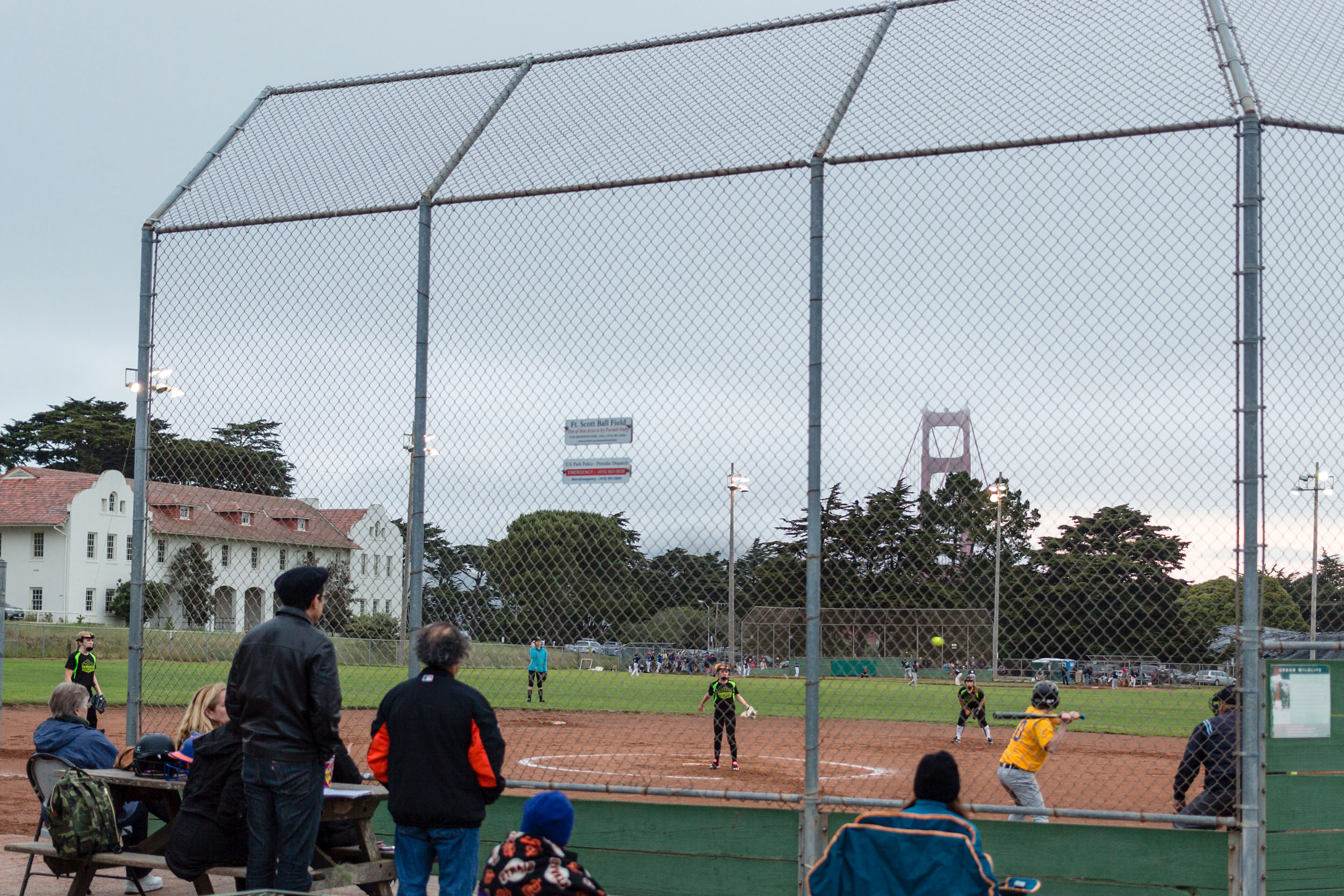 Special Events at the Log Cabin
The rustic Log Cabin at Fort Scott is one of San Francisco's most popular wedding reception venues, with indoor and outdoor space and a view of the San Francisco skyline.
Presidio Nursery
Each year, Presidio Nursery at Fort Winfield Scott grows thousands of native plants for restoration sites around the park. They offer regular volunteer opportunities for the public.
Nearby Overlooks
If you're looking for a photo of the western coastline that Fort Scott once defended, you'll find it at the nearby Golden Gate Overlook and the Pacific Overlook.