Fort Winfield Scott, named for the most prominent U.S. Army officer of the 19th century, was built a century ago on a perch above the Golden Gate. Its mission was to defend the military post and San Francisco Bay as home to the Coast Artillery Corps.
Fort Scott has always been a little different. While located within the Presidio Army post, it functioned separately with its own commander until after World War II. For over half a century, it served as headquarters for the defense of the Bay Area's coastline, from the era of breech loaded, rifled guns to Nike missiles.
When visiting Fort Winfield Scott, you can see the results of the careful planning that went into developing the site. Fort Scott features the earliest example of the Mission Revival architectural style at the Presidio, now seen throughout the park. The campus features 10 identical barracks built around a horseshoe-shaped parade ground, now an expansive green landscape hosting an array of native plants, wild herons, and hawks.
While some of Fort Winfield Scott's buildings have been put back into use, Fort Scott is one of the last large collections of buildings within the national park awaiting revitalization. Given its setting and legacy of service, Fort Winfield Scott has special potential for achieving public good.
The Presidio Trust is now exploring the future of this iconic site by seeking proposals from mission-driven organizations to create a campus for environmental and social change. To contemplate Fort Scott's next chapter, begin by getting to know its past.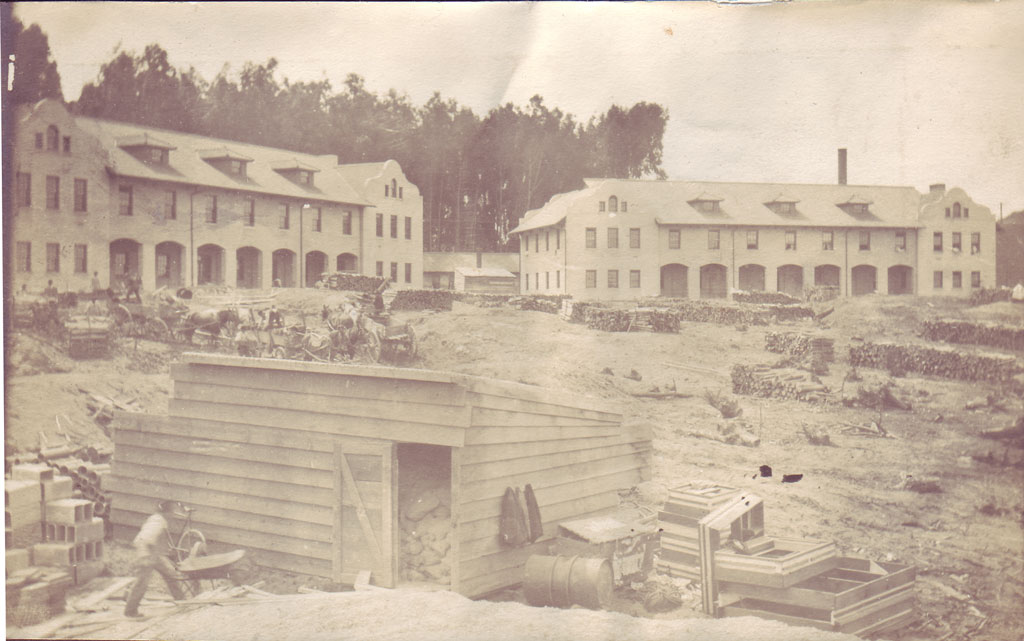 Then: 1911, Buildings 1202 and 1203 – As the importance of expanding San Francisco's seacoast defenses became clear in the 1890s, construction of the coast artillery guns began and there became an urgent need for more and better accommodations for soldiers who would man these guns. With help from local Representative Julius Kahn, Congress approved money for a new post within the Presidio: Fort Winfield Scott. The majority of Fort Winfield Scott's buildings were constructed between 1909 and 1912. Its barracks, officers' quarters, recreational facilities, and other support buildings were built to serve 1,300 soldiers.
Photo Courtesy of Oakland Public Library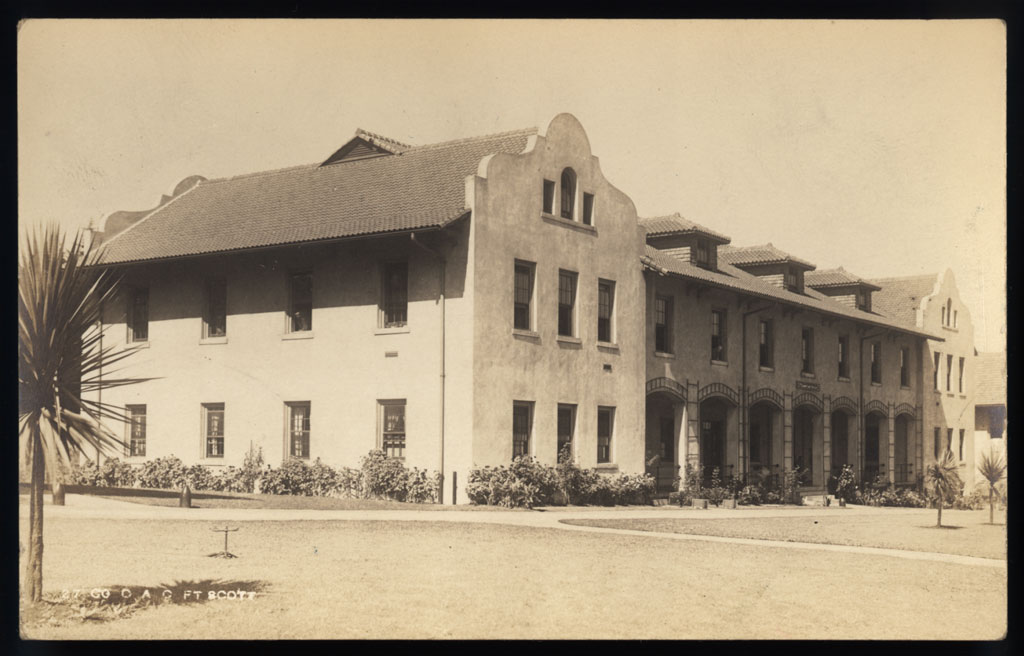 Then: 1915, Building 1204 – Soldiers from the 27th Company, Coast Artillery Corps moved into Fort Winfield Scott on May 21, 1912. The red tile roofs and stucco covered walls established a Mission Revival-inspired architectural style that would later be applied throughout the Presidio.
Photo Courtesy of the Robert W. Bowen Family.
Then: November 1917 – A few years after Fort Winfield Scott was established, the United States entered World War I. No one expected a naval attack on San Francisco from Germany; therefore, Fort Winfield Scott expanded its role in preparing officers and men for the new technologies of war and focused on aircraft. In this picture, you can see some of the coast artillerymen who made up one of the United States' first antiaircraft units.
Photo Courtesy of the U.S. Army Military History Institute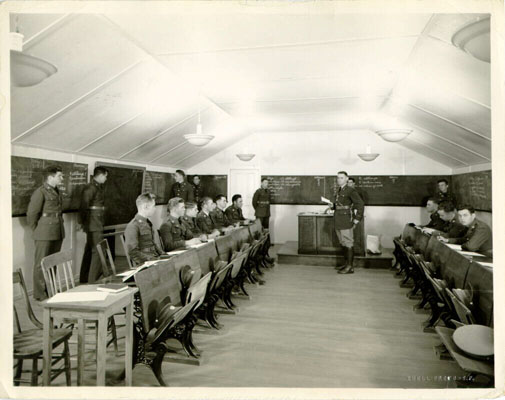 Then: September 18, 1935 – The Coast Artillery Corps was the most technologically advanced branch of the Army, so Fort Winfield Scott was filled with classrooms. In the 1930s, it shared these classrooms with the West Point Preparatory Academy (above). This school trained young men to enter the Military Academy at West Point so they could become officers.
Photo courtesy of San Francisco Public Library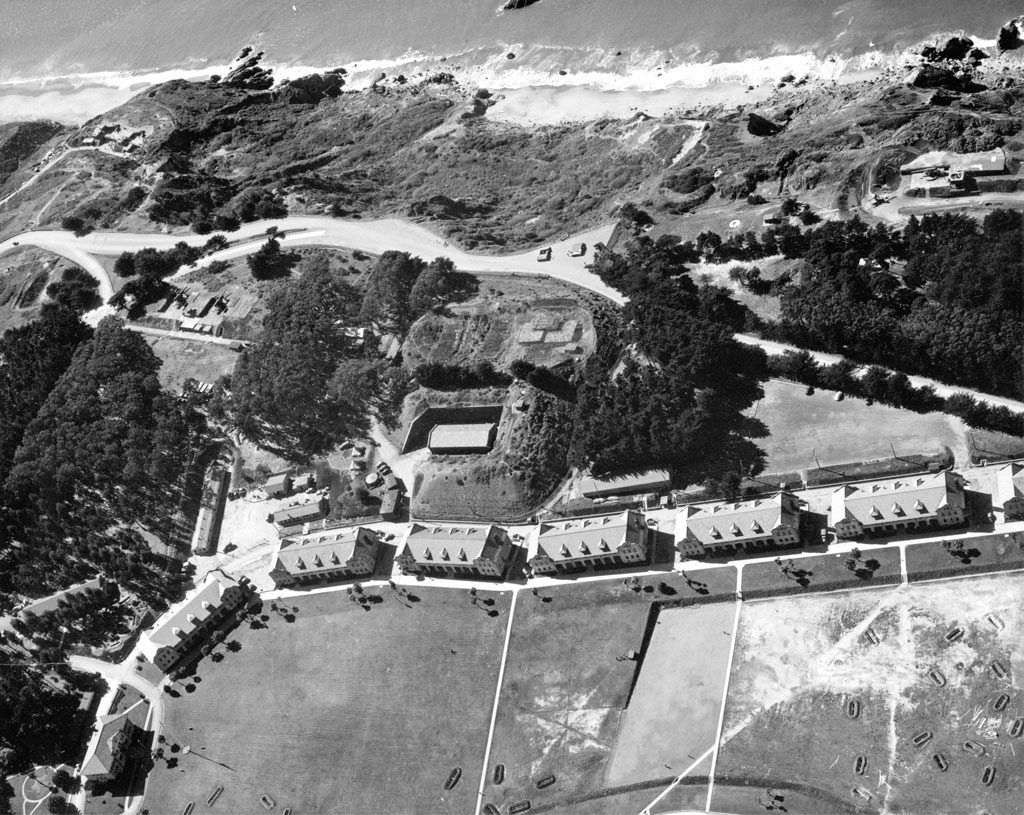 Then: February 25, 1942 – During World War II, Fort Winfield Scott fulfilled its role as "Guardian of the Gate." The Harbor Defense Command Post, which was responsible for controlling all of the coastal defenses in the San Francisco area, was located at Fort Scott. The command post is shown here near the center of this aerial photograph, taken a few months after the war began. Can you see it? You actually can't…because it was mostly underground! This meant enemy bombers probably wouldn't have been able to see it either.
Photo courtesy Golden Gate NRA, Park Archives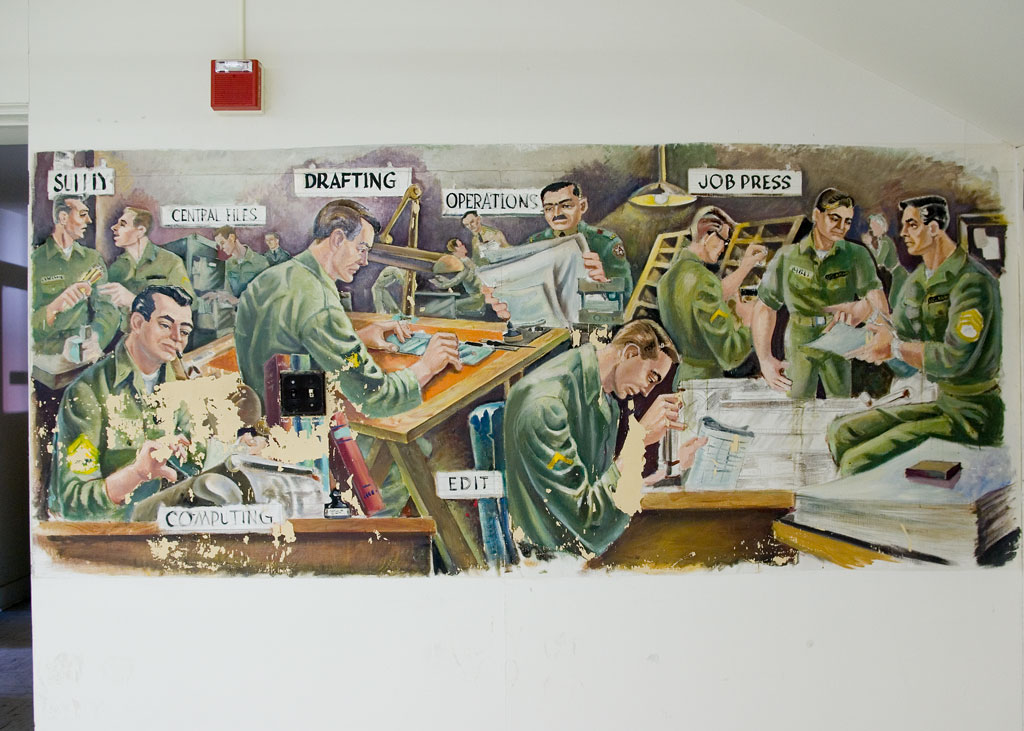 Then: Circa 1956/1957 – Fort Winfield Scott ceased to be an independent artillery post in 1946. In the following decades its buildings housed a variety of units, including antiaircraft, military police, and engineers. In 1956 and 1957, soldiers – led by Specialist 3rd Class Perren Gerber – painted murals in the training room of their barracks depicting Army life. In this mural, members of the 21st Engineering Company can be seen in the process of photo map making.
Photo (from 2008) courtesy of Brian Vahey, Presidio Trust
Read the story about the murals from NBC Bay Area >>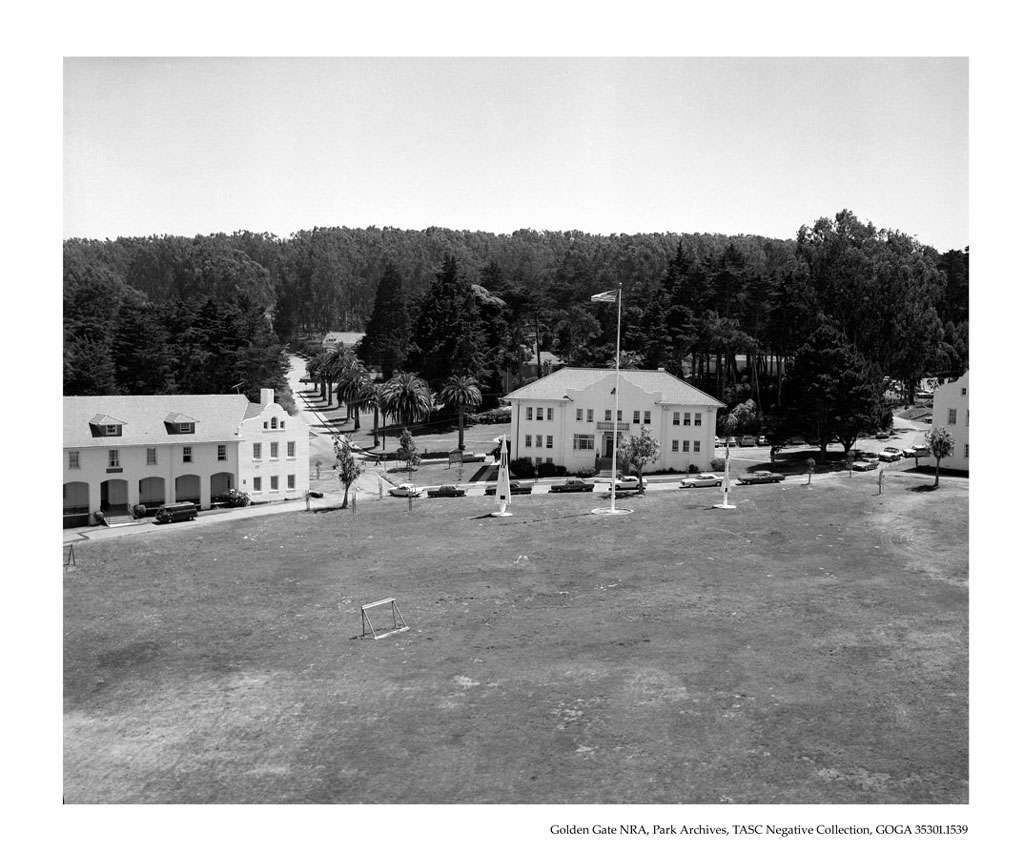 Then: 1965 – During the Cold War, as the threat from nuclear bombers overtook the threat from naval attack, Fort Winfield Scott was a major element of the antiaircraft defense system within the Bay Area. By 1959, three Nike missile detachments occupied the post, including the San Francisco Air Defense School.
Photo courtesy Golden Gate NRA, Park Archives.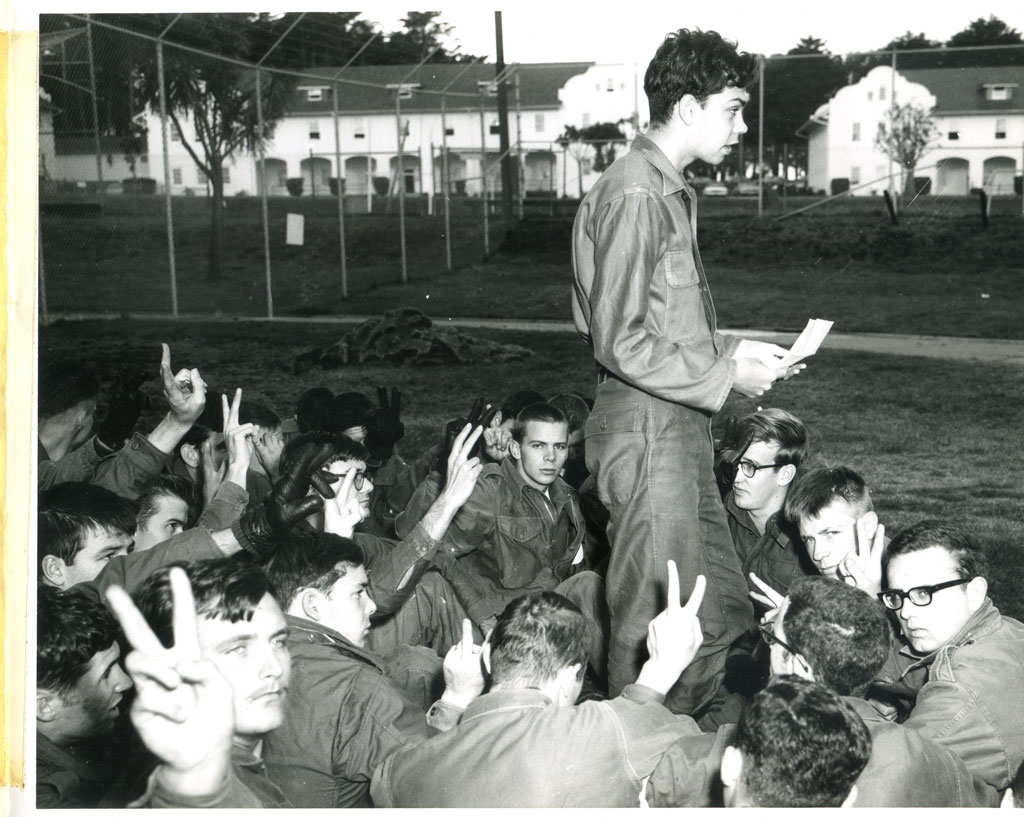 Then: October 14, 1968 – During the Vietnam War, the Army used the Fort Winfield Scott stockade to hold soldiers who went AWOL or refused orders to ship to Vietnam. In October 1968, twenty-seven soldiers detained at Fort Scott held a sit down protest against the treatment of prisoners, including the death of a soldier killed two days earlier while working a detail. Charged with mutiny, their trials focused national attention on the Army's recruitment practices and their administration of justice. The U.S. Army Court of Military Review ultimately overturned mutiny convictions in favor of lesser offenses.
Photo courtesy U.S. Army CID.

Now: January 2018 –​ The rehabilitation of Fort Winfield Scott is the latest chapter in the Presidio's ongoing "post to park" transformation. In January 2018, the Presidio Trust issued a Request for Concept Proposals (RFCP) seeking one or more organizations to create a campus focused on the significant environmental and/or social challenges of our time. Learn more about the Fort Winfield Scott RFCP process >>​