Looking for fun family adventures? Check out our suggestions for getting the kids outside and working off a little energy. We've got everything – from birding to picnics to using technology to learn more about the great outdoors.
1. Picnic in the Park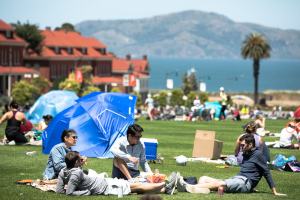 Take lunch on the road! The Presidio's Main Parade lawn (shown here) is a favorite picnic location, but there are also less discovered places – some with views like Inspiration Point, some along the water like Mountain Lake beach, and others located near nature and wildlife, like El Polín Spring. Some locations offer picnic tables, and there's always plenty of open space in the park to stretch out and enjoy your spread.
2. Go on a Cyber Treasure Hunt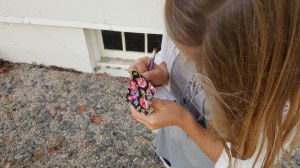 Geocaching is a global treasure hunt where participants seek specific hiding spots by using compass coordinates and wayfinding clues. We have fourteen geocaches hidden in the park, offering a wealth of insights about the Presidio's history and natural world. Most are housed in plastic boxes with a small journal inside (be sure to use hand-sanitizer to stay safe). Find information and instructions on the Geocaching website. The app is free – just search for Presidio of SF.
3. Take a "Storywalk"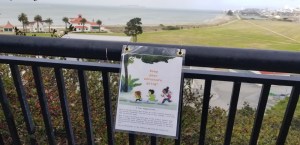 Through a partnership with the San Francisco Public Library and the Golden Gate National Parks Conservancy, the Presidio is home to three "Storywalks." Storywalks feature pages of a children's book placed on sign panels along a trail so you can "seek, find and read" as you stroll. Check out I Wrote You a Note at Mountain Lake, the story of a little girl seeking a hidden note in a lakeside setting, and The Hike, which starts outside the Presidio Visitor Center and features three children on a park adventure; and located at Crissy Field on the Promenade near East Beach is Have You Ever Seen a Flower? by Shawn Harris, a story exploring the relationship between childhood and nature.
4. Explore with the "Adventure Map"
The illustrated "Adventure Map" highlights 25 things you can do in the Presidio. It's got colorful details that invite kids to explore all the park has to offer. Maps can be found in the green and orange wooded boxes at three spots in the park: the nature play pop-up at the Main Post, the north side of Mountain Lake, and the Crissy Field Overlook.
5. Become a Birder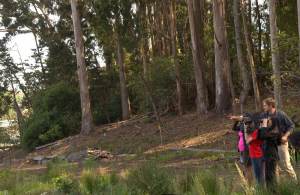 Did you know over 300 species of birds come through the Presidio each year? The Presidio offers great places to learn about our feathered friends – from Crissy Field Marsh to El Polín Spring to Mountain Lake. Become a part of the birding community with the Golden Gate Audubon Society, learn about birds through the Cornell Lab of Ornithology, explore the Birds of Mountain Lake Guide, or join the citizen scientist community with the iNaturalist app.
6. Presidio at Home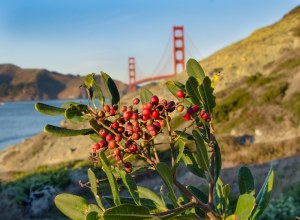 If you can't visit in person, Presidio at Home features virtual content to keep you connected to the park. Enjoy videos, family crafts, and connections to online workshops and classes that are fun for the whole family.