We pretty much have it all in the Presidio – within our 1,491 acres, we have beaches, forests, historic buildings, a freshwater lake, three watersheds, and even a campground. Whew!
That means there's a lot to see, and biking is a wonderful way to experience every bit of this lovely place. There are 25 miles of bikeways in the park, making it possible to get from the Presidio Visitor Center to Presidio Tunnel Tops to Crissy Field to the Golden Gate Bridge to Baker Beach in nothing "flat" (ahem).
Ready to get started? Read our tips below and check out our Biking page for other great resources.
1. Take Advantage of Presidio Slow Streets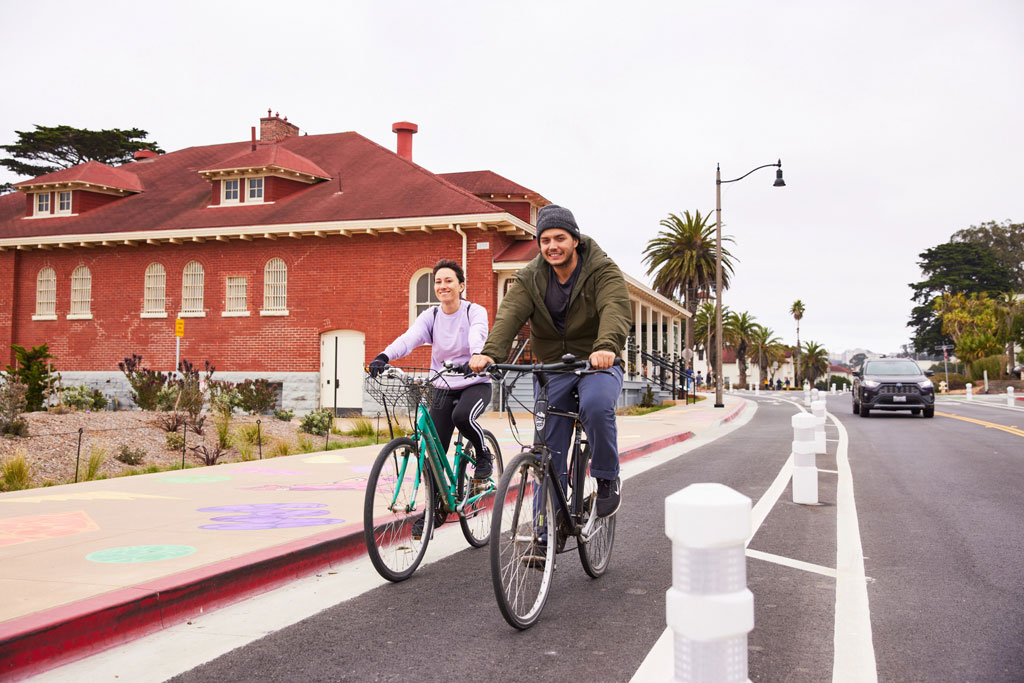 The Presidio Slow Streets program was implemented in 2020 to provide additional space for recreation during the COVID pandemic and to create more opportunities for visitors to enjoy the Presidio. Throughout the program, we've listened to the community, collected usage data, and adapted the roadways to current needs.
Learn more about Slow Streets >>
2. Get the Kids Ready to Roll with Lessons from "YBike Learn to Ride"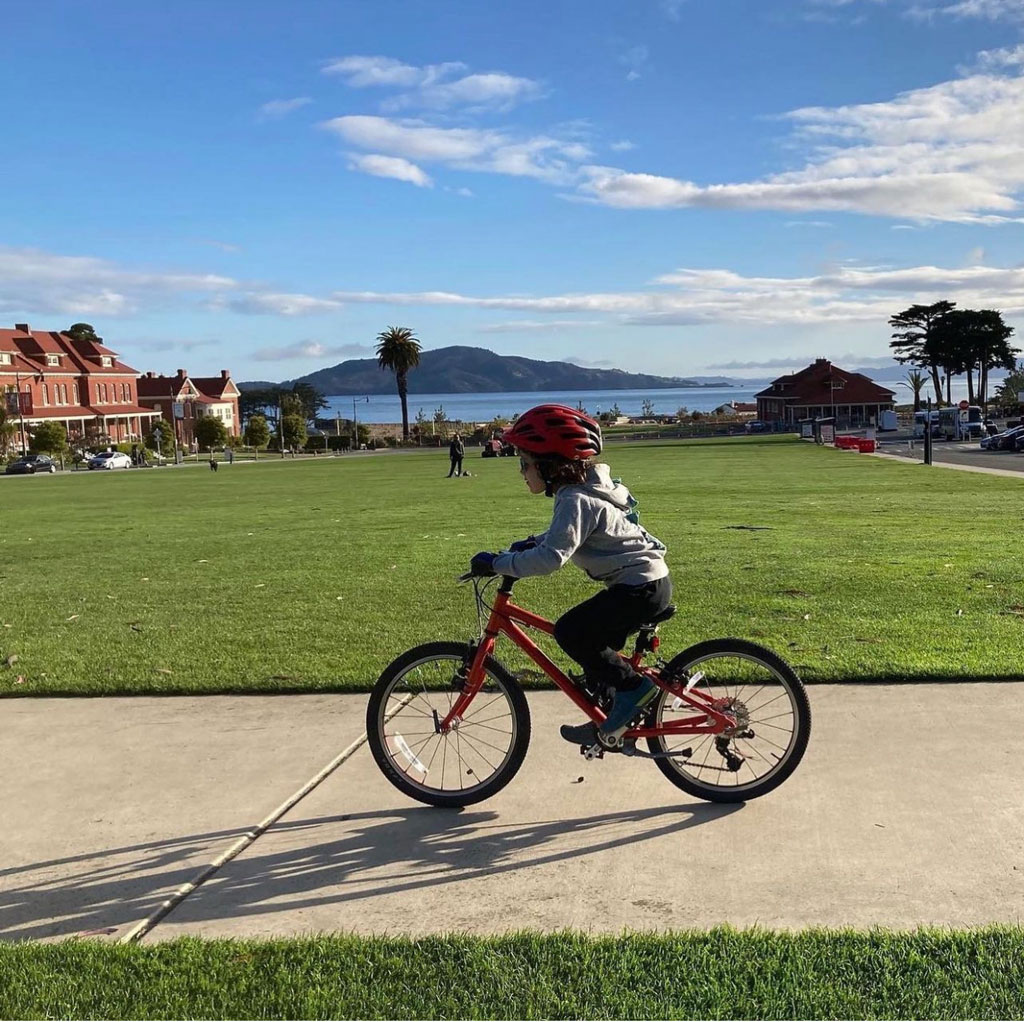 Photo by Charity Vargas
Do you have a kid who's eager to leave the training wheels behind, but needs help with the basics? Check out the YBike's Learn to Ride Program. Presidio Community YMCA hosts this friendly, free, safe instruction for kids where they get the chance to take a spin around the park and become a bicycling pro. Bikes and equipment are provided.
Check out the Presidio YMCA's page for an upcoming YBike event >>
3. Rent a Bike, or Get a Quick Fix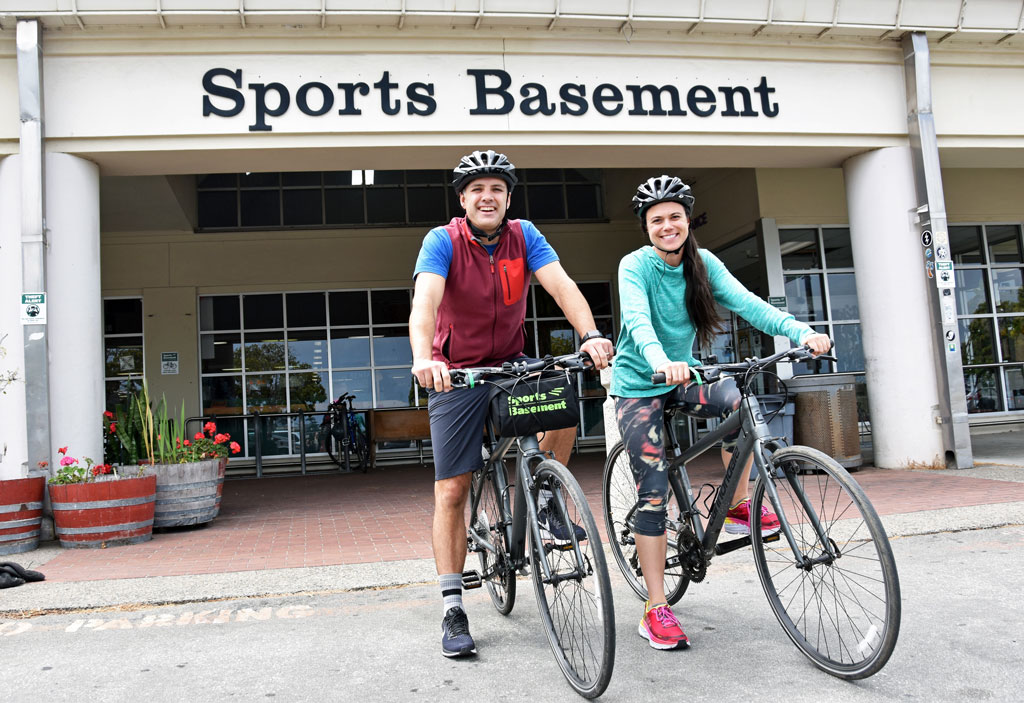 If you don't own your own wheels, the people at Presidio Sports Basement will hook you up with the perfect bike rental to get you out and exploring. And if you find yourself in need of some emergency maintenance, Roaring Mouse Cycles has experts to get you back up and running in no time. Both of these great organizations are located at the Presidio's Crissy Field.
4. Try an Electric Bike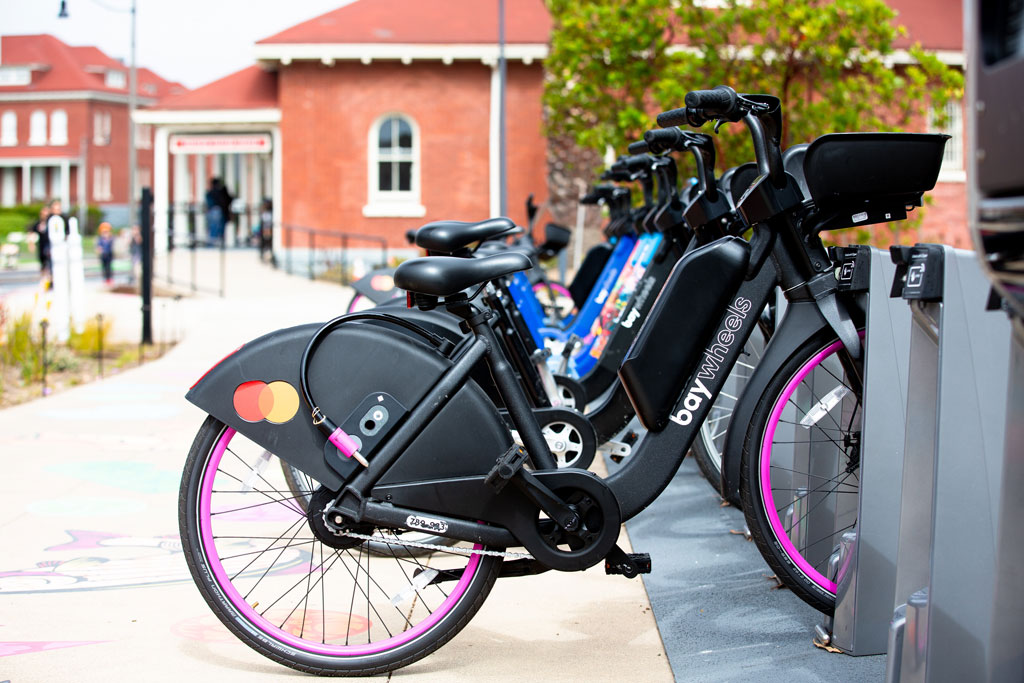 Electric bicycles are a great way to navigate the Presidio's hills. Bay Wheels bike share dockless electric bikes are available in the Presidio at the Visitor Center and Main Parade Lawn, making it easier to explore some of the park's sometimes steep 25 miles of terrain. Activated through the Lyft app, those over the age of 18 can use the app to find a bike in a safe location and use an e-bike as an option for getting to and around the park. You can also rent an electric bike at Sports Basement.
5. Rack it Up on the Presidio GO Shuttle or Muni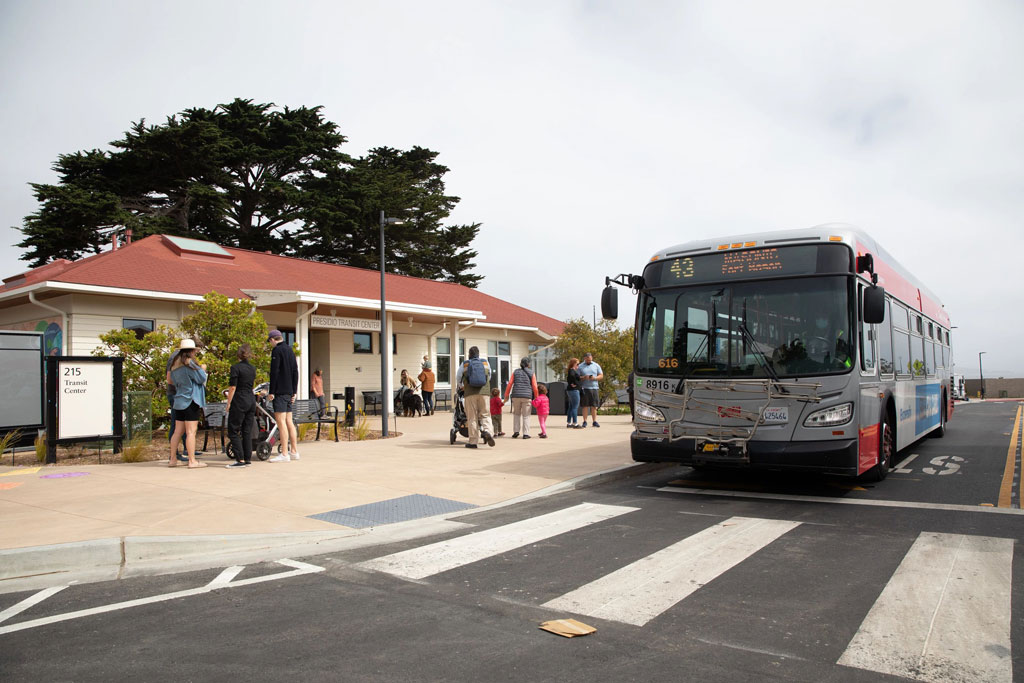 If biking to and from the Presidio sounds like too much riding for one day, you can catch a ride on Muni or the Presidio GO Shuttle. Both offer bike racks to load up your wheels. The Presidio GO Shuttle, which picks up at Drumm and California Streets or at Van Ness and Union Street, is free to use outside of commute hours on weekdays and runs seven days per week. All Presidio GO routes start at the Transit Center, where you can grab a snack and pop into the Presidio Visitor Center for some tips before beginning your ride. You can hop on the Muni 43 bus, which will take you directly to the Presidio Transit Center. The Muni 30, which goes through Chinatown, provides service to Crissy Field and is another option for city travelers.
Check the Presidio GO Schedule here >>
6. Give it a Rest on a New Bike Rack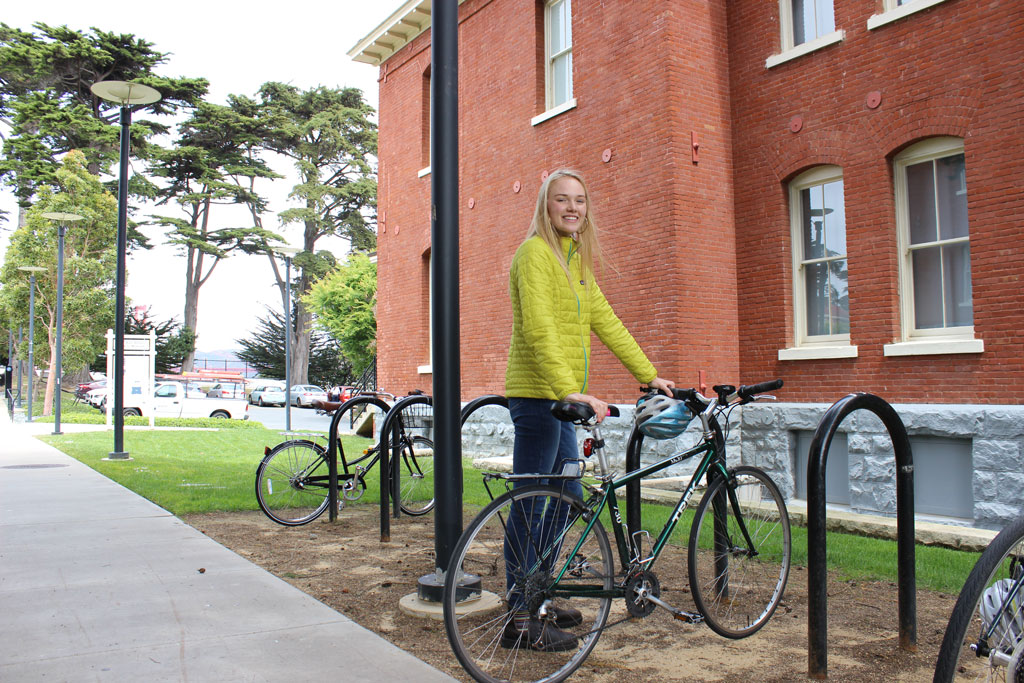 As much as you like biking the Presidio, sometimes you want to stop and explore on two feet. You're in luck. The Presidio has dramatically expanded the number of bike racks located around the park (see the map on the SF Bicycle Coalition's website.). Or you can store your bike at Bay Wheels Bike Share stations located near the Presidio Visitor Center and the Outpost play area. Explore the real-time Bay Wheels map for station and bike locations on their website.
7. Bike Through the Presidio to the Golden Gate Bridge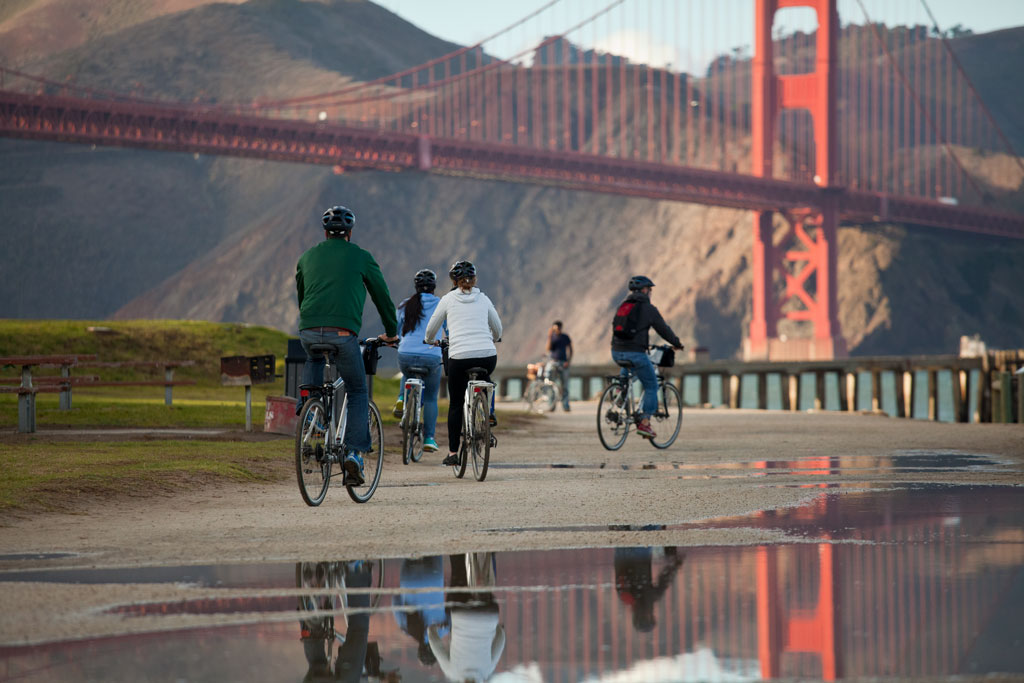 Photo by Scott Sawyer
One of the best experiences in the Presidio is a bike ride to the Golden Gate Bridge (actually, this might be one of the best experiences in San Francisco). Whether you're coming from the Embarcadero, or Golden Gate Park, this is a must and we've got some curated bike rides with some great tips, including the routes to take to help you avoid hills and lovely stops for refreshments and overlooks.