July is National Picnic Month, and there's no better way to celebrate than heading into the Presidio for a proper nosh session in the great outdoors. You may have already visited a few of the park's favorite picnic sites – such as Baker Beach and Crissy Field East Beach, or maybe you've attended the ever popular Sunday Presidio Picnic. But if you're looking for a quieter spot that's (currently) floating a little under the radar, below are a few of our favorites. Note: visit our website for a look at every picnic area​ in the Presidio.​​​
1. Civil War Parade Ground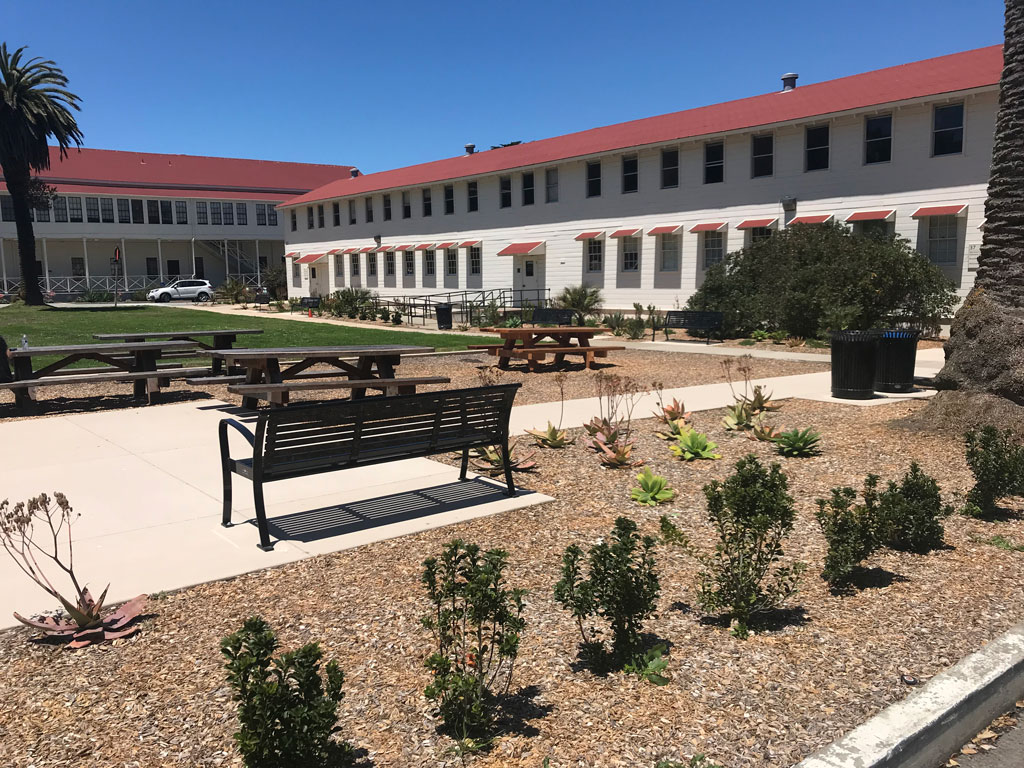 The Civil War Parade Ground is located between Graham Street and Keyes Avenue on the Main Post – just steps away from the Transit Center, the Presidio Visitor Center, and the Presidio Officers' Club museum and cultural center. We recently added a small picnic area to the big lawn, and it's lookin' mighty pretty right now. If you didn't pack in your own lunch, on weekdays you can pick up some tasty take out at the nearby Café Rx. Presidio Bowling Center are also open on Saturdays. There aren't any grills here, but you'll find picnic tables and benches. Restrooms are available at the Transit Center.
2. Immigrant Point Overlook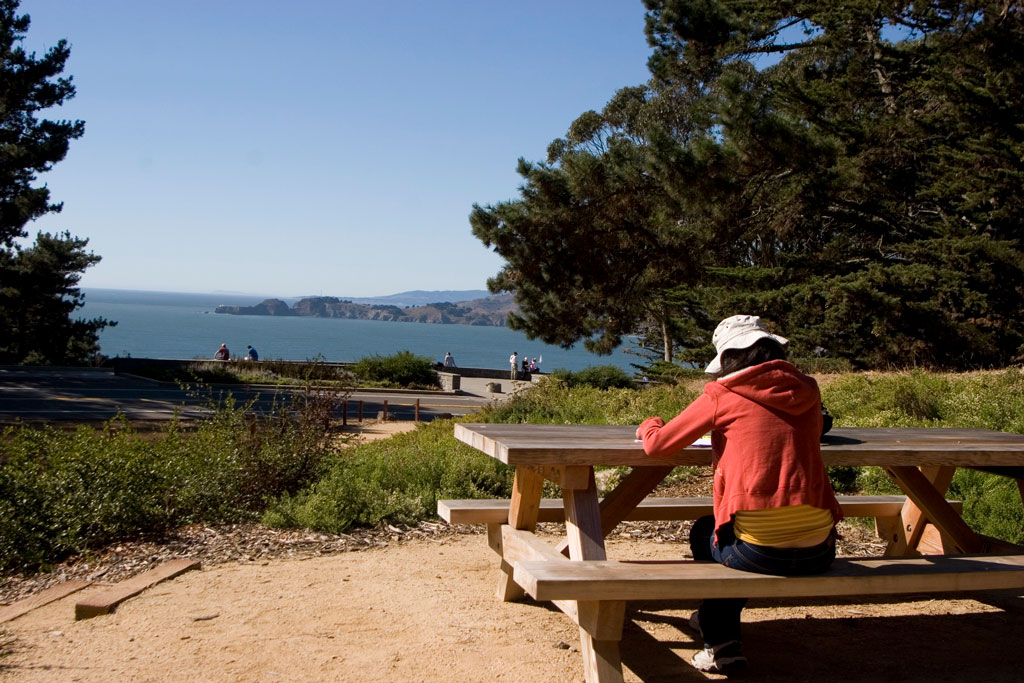 If you're hiking in the park – maybe along the Juan Bautista de Anza National Historic Trail, the Bay Area Ridge Trail or the California Coastal Trail – Immigrant Point Overlook is a wonderful place to enjoy lunch or a snack. The amenities are slim out here in the Southern Wilds. There aren't any restrooms or grills at Immigrant Point, but you'll find picnic tables where you can relax and enjoy unbeatable views of the Pacific Ocean, the Marin Headlands, and – when Karl the Fog cooperates – Point Reyes National Seashore.
Learn more about Immigrant Point Overlook >>
3. El Polín Spring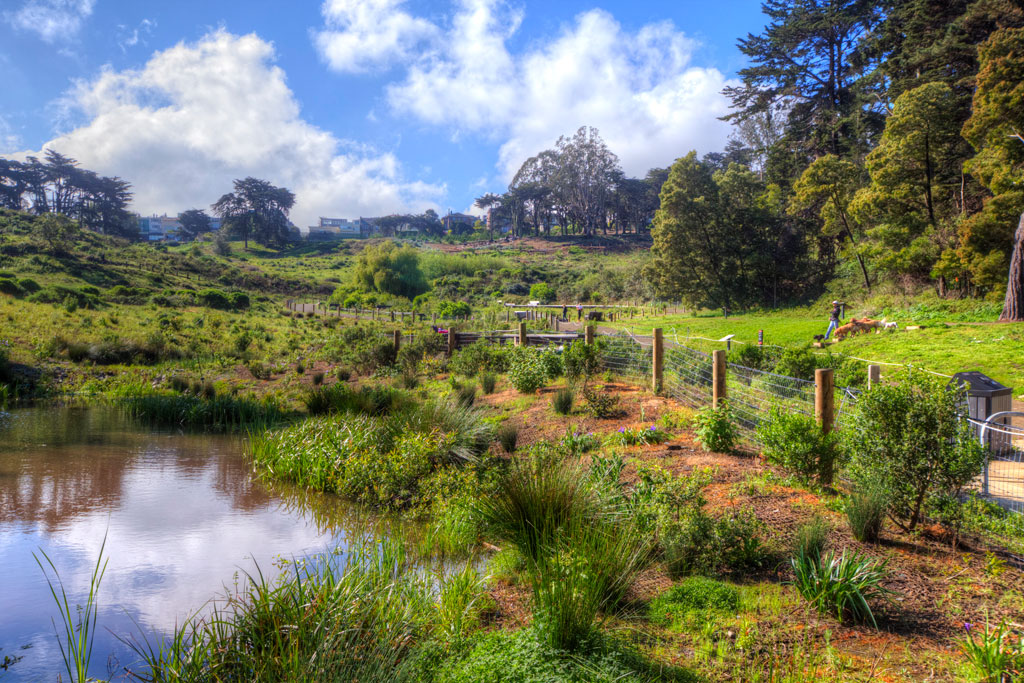 El Polín Spring has long been a gathering place for people. It's one of the few year-round freshwater sources in the Presidio, and it's part of the Tennessee Hollow Watershed, which feeds Crissy Marsh. After a major enhancement in 2011, the rich history and nature of the area have been brought back to life. Come take a walk and then enjoy a barbecue and picnic. Located near Presidio Wall Playground – and not far from Lovers' Lane – here you'll find a grill, restrooms, and four picnic tables…as well as history, hummingbirds, butterflies, dragonflies, and a wide array of native plant life.
Learn more about El Polín Spring >>
4. Pershing Square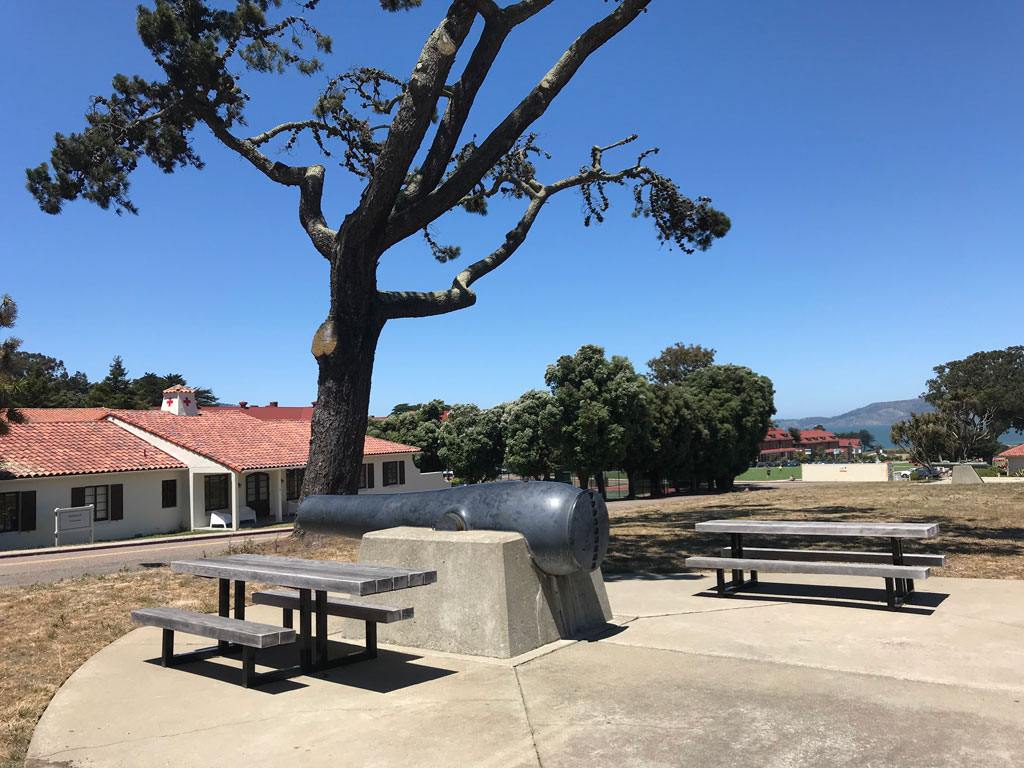 If you're visiting the Presidio Officers' Club, taking in the seasonal El Presidio Live Archaeology Dig, or checking out the Walt Disney Family Museum, you might be looking for a nearby spot where you can sit outside and take a break. The picnic tables under the flag at Pershing Square (directly across from the Officers' Club) are a great place to have lunch and enjoy the views of San Francisco Bay. You can also grab food to go nearby at Colibri Mexican Bistro, Presidio Bowling Center, and Dalida.
Learn more about Pershing Square >>
5. Presidio Twilight
Though Presidio Picnic brings thousands of visitors to the park each Sunday from March to October, the lesser known Thursday night Presidio Twilight​ is a great experience but with smaller crowds. This means shorter lines for the food trucks and more space on the Main Parade Lawn for you and your entourage. Presidio Twilight is also a great way to kick off the weekend! So bring a blanket and bundle up around a fire pit with a hot toddy and grub from the array of international food trucks. The kids will enjoy lawn games and s'mores.​