It's National Picnic Month, and the Presidio has some of the most scenic picnic spots in the entire Bay Area. Our Main Parade Lawn is home to the ultimate picnic gathering – Presidio Picnic. Held on Sundays from spring to fall, Presidio Picnic features international food and the chance to gather with hundreds of fellow park-lovers. The seven-acre lawn is also a great place to lay out a blanket for a small gathering with family and friends any time you visit the park.
Are you looking to celebrate picnic season? Here are five great places to picnic in the Presidio with a view:
1. Immigrant Point Overlook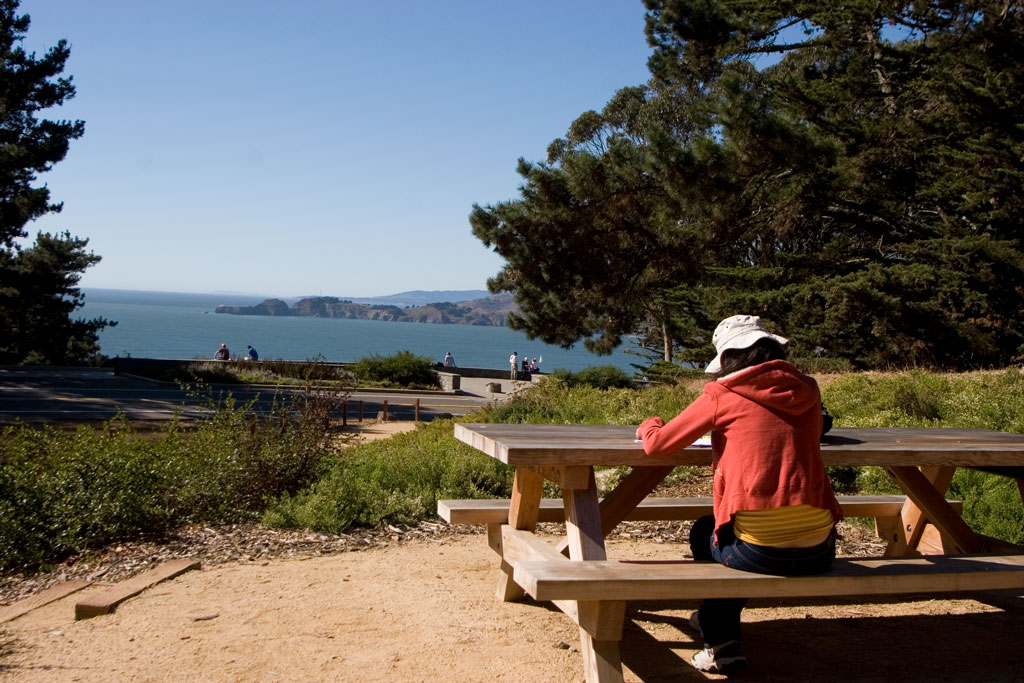 Immigrant Point provides beautiful views of the Pacific Ocean, the Marin Headlands, and – on a clear day – Point Reyes National Seashore. The overlook has tables and limited parking so it's also a wonderful spot to take a little break before heading off on an adventure on the Immigrant Point Connector Trail toward the Batteries to Bluffs Trail, or on to Baker Beach and Marshall's Beach.
Learn more about Immigrant Point >>
2. El Polín Spring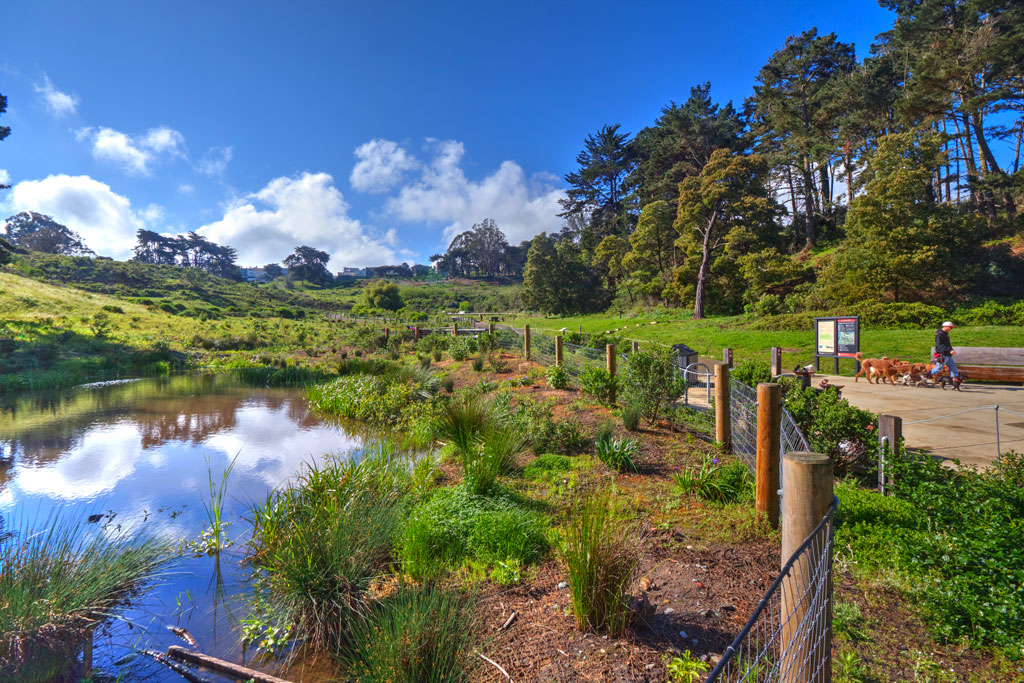 Located in the heart of the Presidio's ​ Tennessee Hollow Watershed, El Polín Spring can be accessed off the Ecology Trail and it's not far from Presidio Wall Playground. This spot is perfect for taking in a little bit of nature while enjoying a meal in the great outdoors. You'll find picnic tables, barbecues, and restrooms here. Bring your binoculars! Thanks to a decade-long restoration project, you can enjoy birdwatching nearby, and the entire area provides a great place to explore the Presidio's native plant communities.
Learn more about El Polín Spring >>
3. Baker Beach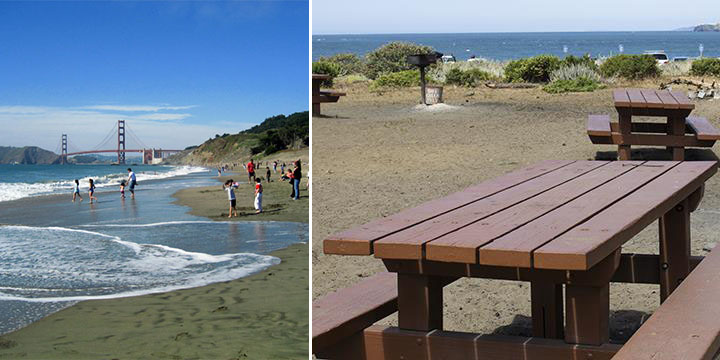 Baker Beach is one of the Bay Area's most iconic beaches. Here you'll find a fantastic view of the Golden Gate Bridge Locals come here to bathe in the (occasional) sun, build sandcastles, and enjoy views of the Pacific Ocean. If you arrive early, you might be able to snag a BBQ grill and a table in the picnic area located up above the beach. Baker Beach also connects to the scenic California Coastal Trail.
Learn more about Baker Beach >>
4. East Beach at Crissy Field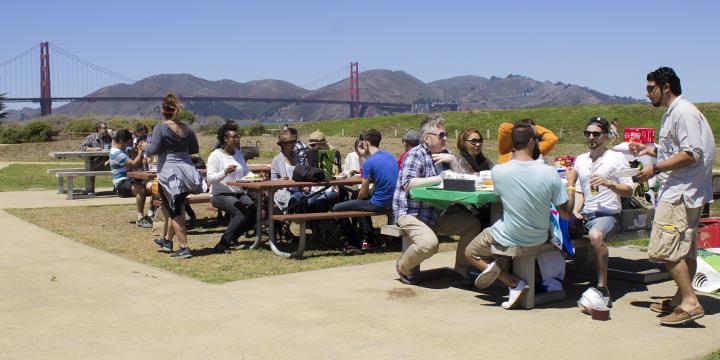 If you're spending time at Crissy Field, East Beach is a great stop for a picnic. Here you'll find restrooms, picnic tables, and grills. You'll also be steps away from fantastic birdwatching at nearby Crissy Marsh. It's the perfect place to experience one of the park's most beautiful views of the Golden Gate Bridge.
Learn more about East Beach at Crissy Field >>
5. West Bluff Picnic Area at Crissy Field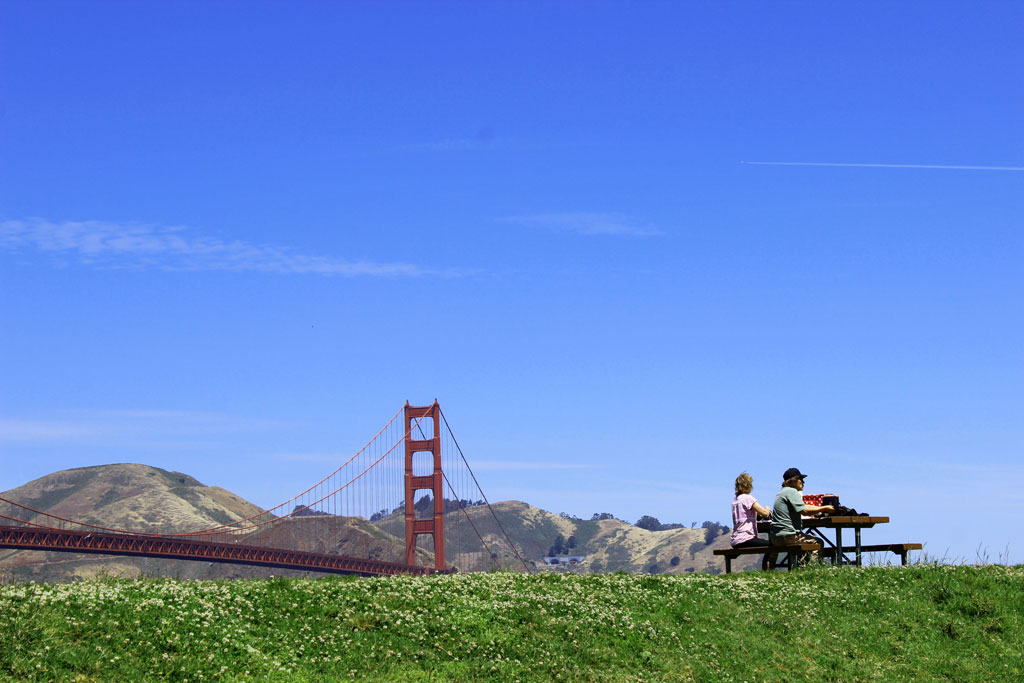 If you're at the other end of Crissy Field, the spot for al fresco dining is the West Bluff Picnic Area. Here you'll have views of the bridge on one side, Alcatraz straight ahead, and the San Francisco skyline on the horizon toward downtown. If you're visiting the Greater Farallones National Marine Sanctuary Visitor Center or Fort Point National Historic Site with the kids, this is where you can stop off and take a break. West Bluff has all the amenities – including BBQ pits, picnic tables, and restrooms. The Warming Hut is within arm's reach for any additional picnic treats.