Fisher Tomlinson has been exploring the Presidio with his parents since before he could walk. Like many Bay Area kids, the 10-year-old Alameda resident comes to this national park "to have fun and run around." Among his favorite spots are Andy Goldsworthy's art installations, Spire and Wood Line, the epically beautiful San Francisco National Cemetery, Rob Hill Campground, and anywhere he might spy a red-tailed hawk, his favorite bird.
The Making of a YouTube Star
Fisher is also a regular poster on YouTube these days. "I love making and editing videos," he shared. When Fisher's mom, Michele Gee of the National Park Service, showed him the new Presidio Explorer Backpack, the budding videographer used the backpack to express his love for the Presidio the best way he knew how. Enlisting his mom as an actor, he spent a day staging, filming, and editing a video, The Presidio Quest. Being 10, he had other motivations as well. "My mom told me I could post it on YouTube and I might get lots of subscribers," he explained.
The Presidio Explorer Backpack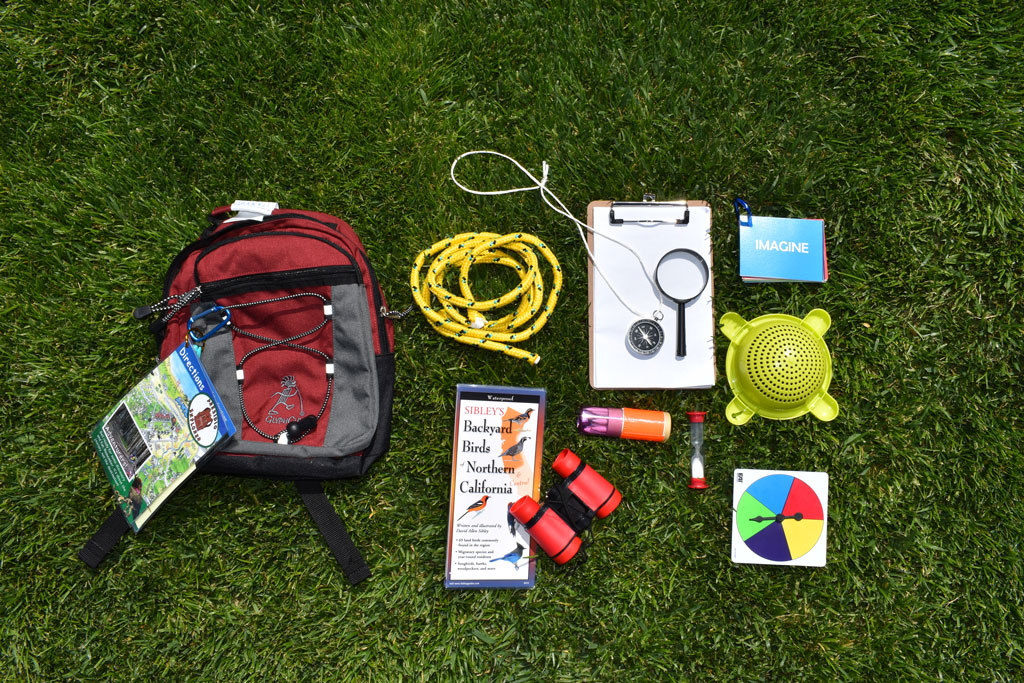 As Fisher's inspired video reveals, the Presidio Explorer Backpack equips families for a self-guided, self-paced adventure in the park. The experience begins at the Presidio Visitor Center where you check out a backpack, just as you would a book from the library. Lightweight and kid-sized, the backpacks include all the tools needed for making new discoveries and seeing the familiar in a new way, including an adventure map, nature guides, a magnifying glass, binoculars, a sand sifter, colored pencils and paper, and a compass. Activity cards prompt you to make art from nature, use your senses to explore your surroundings, or just have silly fun. The instructions emphasize that this adventure is about the journey and not the destination.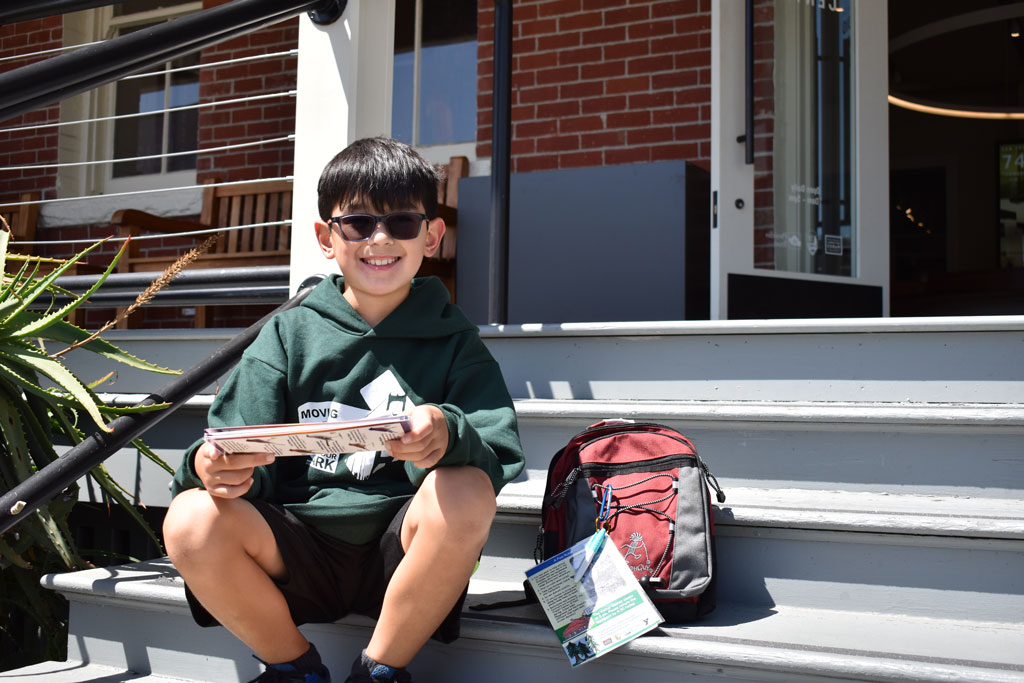 On their first walk using the Presidio Explorer Backpack, Fisher and his parents stayed around the Visitor Center on the Main Post. They packed in three stops and nine activities in one hour, including an art challenge and a game. "We each found three things off the ground and built something with them, and then we played hide and seek, which was super fun," Fisher said. "I hid under the Share Chairs."
Where will your adventure take you?
To plan your own adventure, watch Fisher's YouTube video, then check out a free Presidio Explorer Backpack at the Presidio Visitor Center:
Reserve a Backpack: Presidio Explorer Backpacks are available daily at the Presidio Visitor Center, 210 Lincoln Boulevard, between 10 AM to 2 PM with a backpack return by 4:30 pm. Reserve a backpack in advance by calling (415) 561-4323.
Fisher's Recommendation: While at the Presidio Visitor Center, Fisher recommends that kids head for the interactive table in the back room where they can learn all about the people, places, and natural spaces that make the Presidio such a fun destination for families.