Even though our weather can sometimes be a bit chilly, San Franciscans LOVE outdoor dining. If you're looking for a new place to eat and drink al fresco, look no further than the Presidio. Many of the Presidio's restaurants offer a patio, porch, or bench seating – some with the added- bonus of spectacular views of the bay, the Presidio forest, and other beautiful park landmarks. Here are some of our favorite spots in the Presidio to enjoy dining outdoors.
Colibri Mexican Bistro
Colibri Mexican Bistro is a beautiful restaurant with both indoor and patio seating, located at the historic Presidio Officers' Club. Colibri – which means "hummingbird" in Spanish – offers diners an authentic Mexico City dining experience in the heart of the park. Their menu includes chilaquiles verdes o rojos, mole poblano, quesabirria, and tlayuda. They also make fresh, handmade tortillas, and antojitos (street snacks/small appetizers), prepared to order on the outdoor comal, and offer cocktails that incorporate mezcals and tequilas from around the world.
The Warming Hut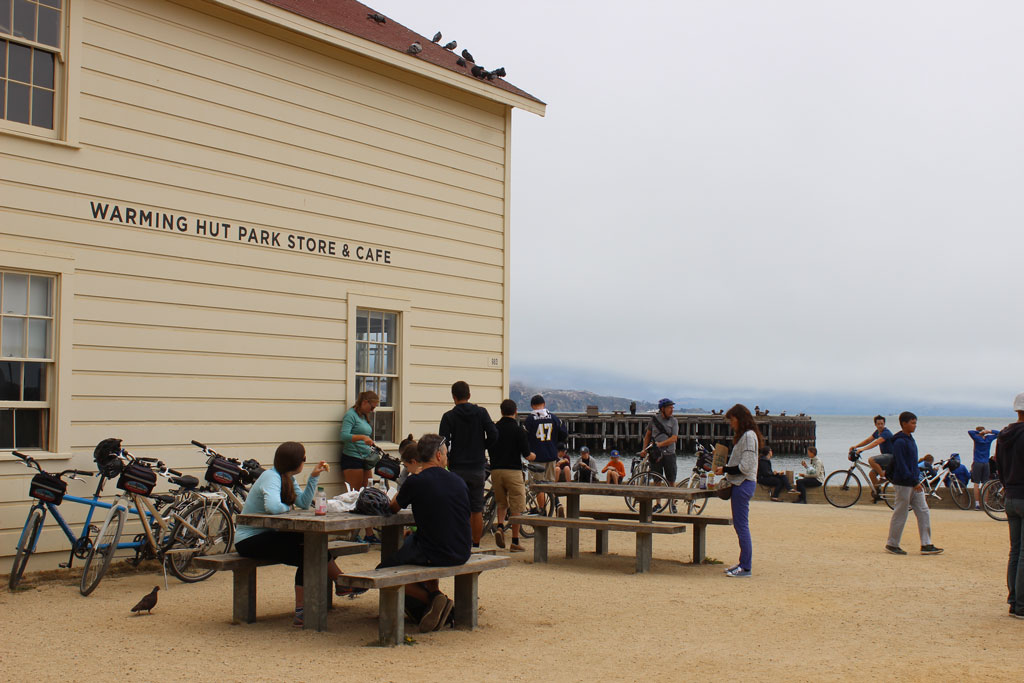 The Warming Hut + Park Store is the perfect place to take a break during your stroll to and from the Golden Gate Bridge. No doubt their hot chocolate is a must on a foggy day of sightseeing around Crissy Field. But for the rare balmy day, this is one of the best places in the Bay to park your bike and enjoy a snack and cool beverage to help cool you off. The Warming Hut has picnic table seating right outside their doors with views toward San Francisco Bay. It's a wonderful place for people watching, too.
Learn more about the Warming Hut + Park Store >>
Ironwoods Bar & Grill at Presidio Golf Course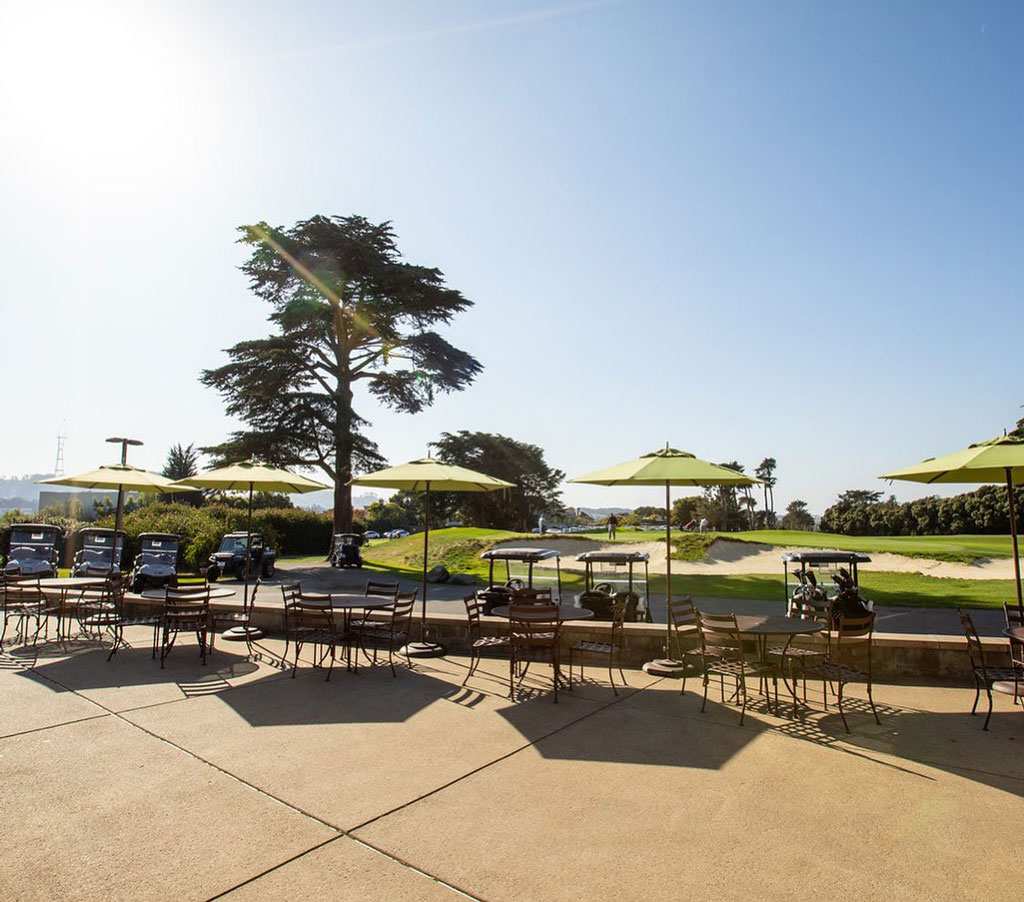 Located at Presidio Golf Course, Ironwoods Bar & Grill features American comfort food with a California flair in a casual clubhouse environment. Without question this is the "go-to" spot for a burger and brew after a grueling 18 holes out on the beautifully manicured greens. But peek around the restaurant and you'll see that the café offers different strokes for different folks, attracting a broad array of Presidio visitors, park employees, and neighbors drawn to their tasty menu.
Classic favorites like their cobb salad and pub fries sit comfortably alongside more adventurous fare, like the fresh fish tacos with spicy chipotle aioli or a salumi and cheese plate that features local artisan cured meats and cheese. Wash it down with a selection of local craft beer or, for a more refined experience, choose from more than 50 whiskies available at the bar.
Learn more about the Ironwoods Bar & Grill at Presidio Golf Course >>
Presidio Bowl + Grill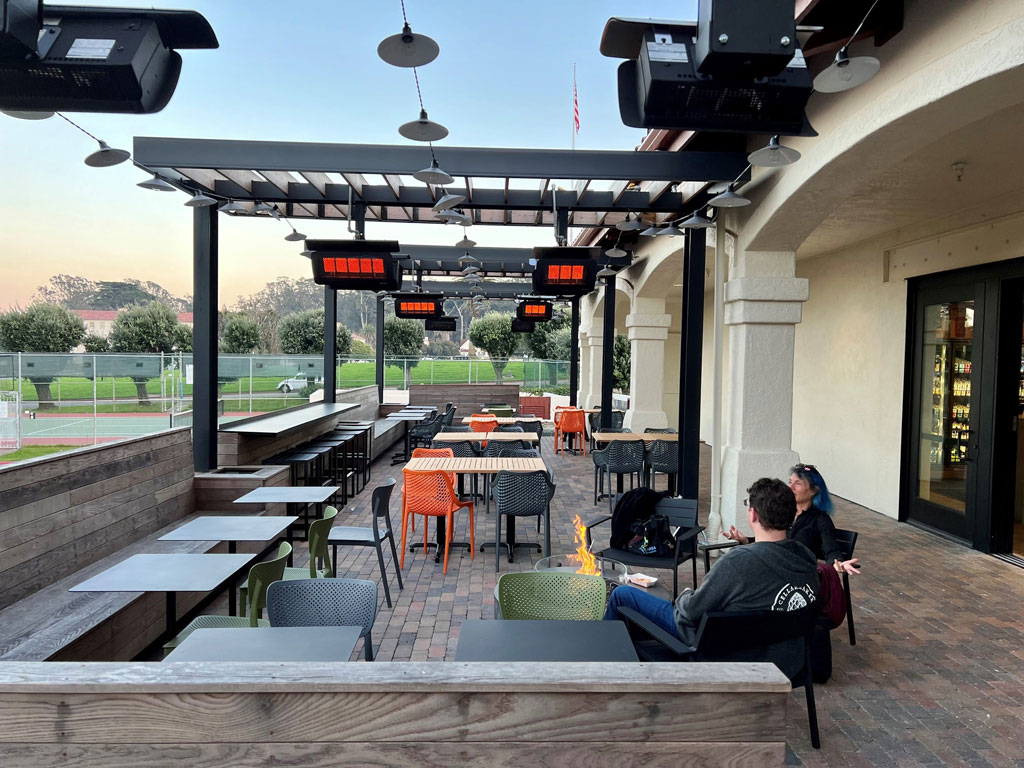 Presidio Bowl + Grill's brand-new patio has some of the best views in town! Sit outside under the heat lamps and enjoy cocktails and great food or slip inside for arcade games and bowling. They also offer convenient parking.
You don't have to rent a pair of bowling shoes to place an order at the walk-up bar and grill. There you'll find most of your favorites – including, spicy chicken wings, crispy tater tots, and mini corn dogs. The burger has more than a few fans, and people have been known to come just for the curly fries. The full bar offers 50 types of beer, 19 wines, and even a white Russian – if that's how you roll.
Learn more about Presidio Bowl + Grill >>
Presidio Social Club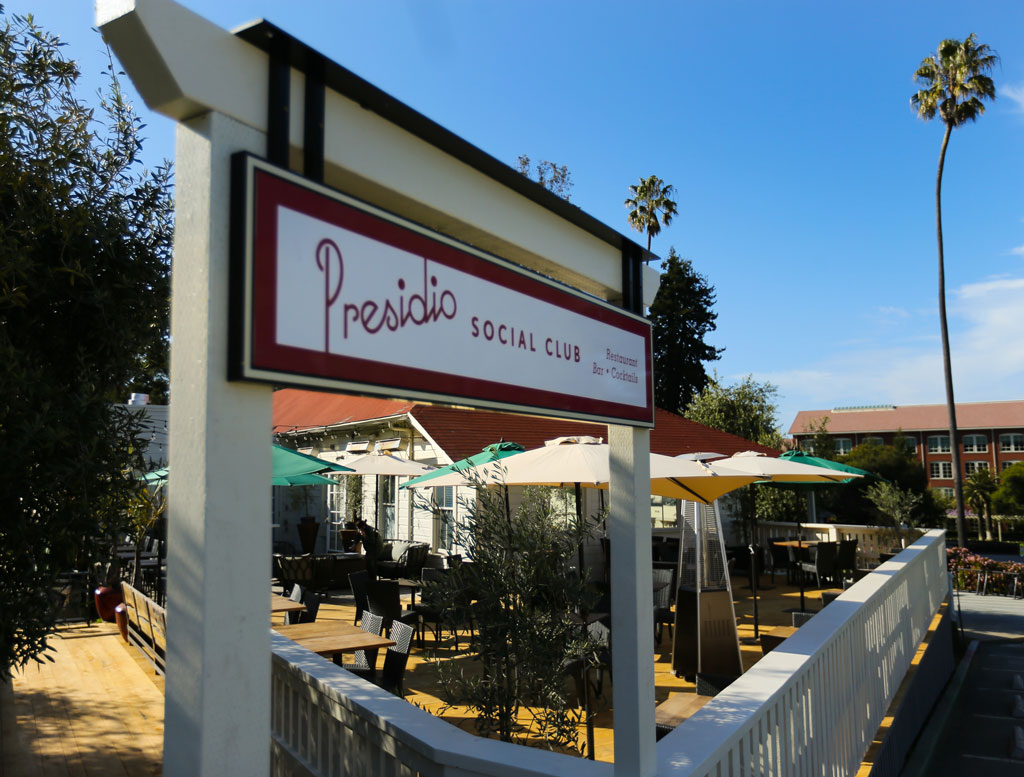 Brunch, lunch or dinner on the back patio of the Presidio Social Club is always an experience. Since opening in 2006, the elegantly nostalgic Presidio Social Club has provided a modern take on old-school American dining.
They offer a convivial dining room, bar seating, and expanded patio, and their kitchen, bakery, and bar turn out their take on the best American Classics Thursday through Sunday for lunch, brunch, dinner, and a classic Sunday supper.
Learn more about Presidio Social Club >>
Sessions at the Presidio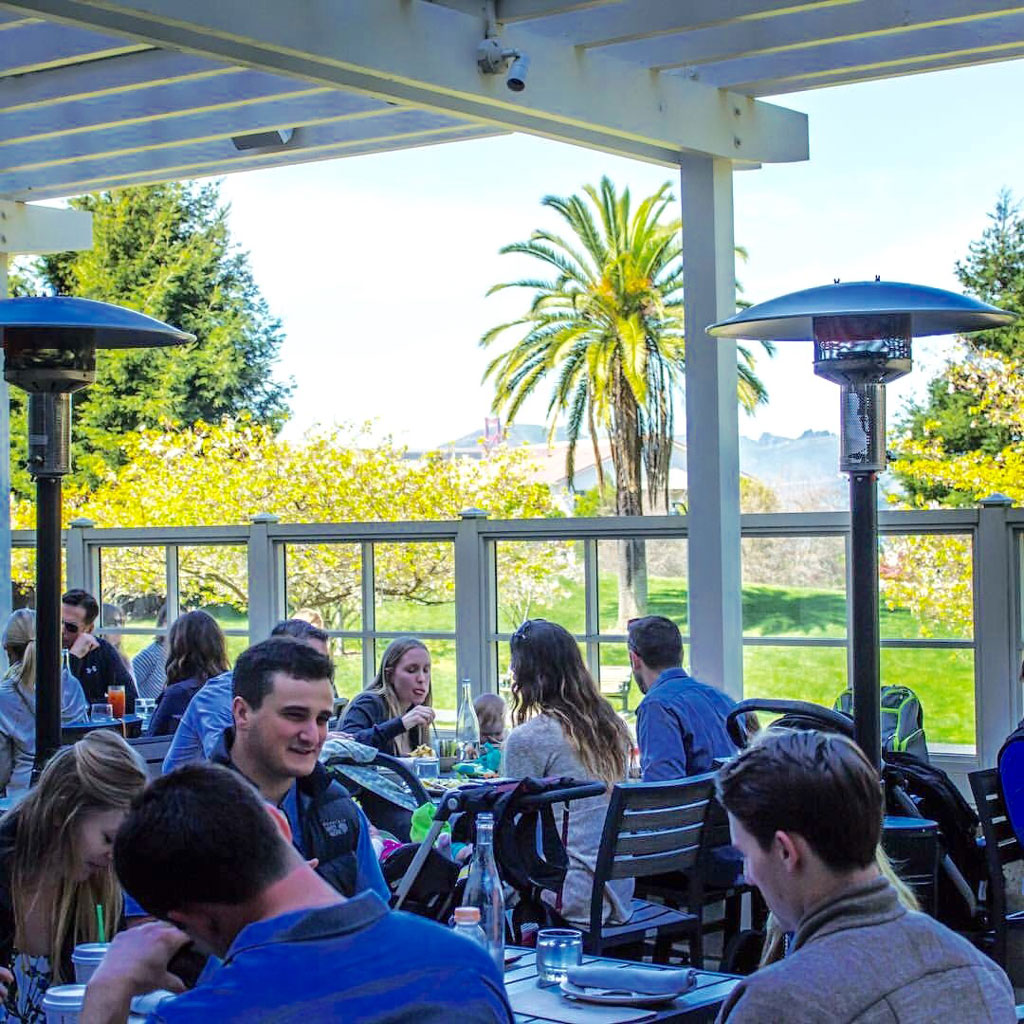 At Sessions' beautiful patio, you can gaze upon the Palace of Fine Arts dome and the Golden Gate Bridge while overlooking a meadow designed by the late, great landscape architect Lawrence Halprin. This is a great spot to visit after a hike through the Presidio. On Saturdays and Sundays from 11 am until 2:30 pm, enjoy bottomless beers or mimosas during their weekend bottomless brunch deal. See their website for their hours of operation and a peek at their menu.
Learn more Sessions at the Presidio >>
Café RX
Located in the Presidio's Letterman District within the Tides Converge campus, Cafe Rx is a little bit off the beaten path and the perfect spot to enjoy lunch near the presence of Yoda, the legendary Jedi Master. The life-sized bronze Yoda statue at the Letterman Digital Arts Center is just next door.
Chef and owner Rogelio Colindres, who opened Café Rx in 2013, is originally from El Salvador, so along with bagels, sandwiches, and salads, you'll find Latin American-inspired specials, like pupusas and tamales, on the changing daily menu.
As for its name, Rx pays homage to its building, which was originally a pharmacy in the former Letterman Hospital. Keeping with the health-inspired theme, the cafe prepares all of its food with fresh, organic, free-range, locally grown, and seasonal ingredients.