Did you know the Presidio Archaeology Lab cares for a collection of more than 500,000 discoveries? This extensive assortment is the result of two decades of research in the Presidio. Join us as we uncover unique objects and share the stories they reveal about the park's past.
In honor of our new art exhibition, Home Land Security, this month we're taking a look at "found" art in the Presidio.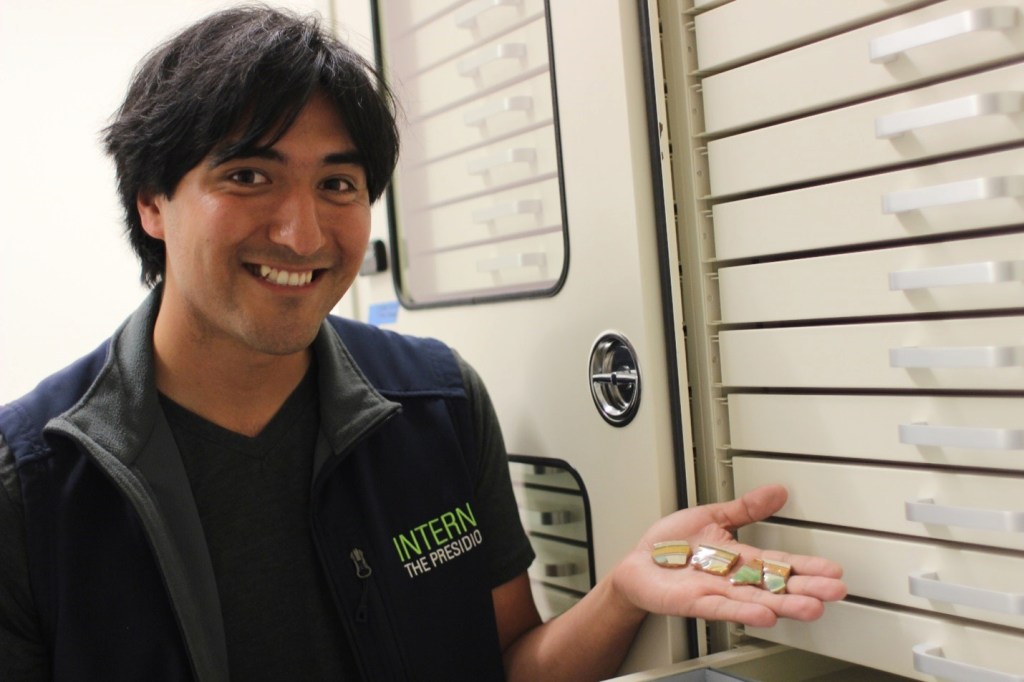 Art doesn't always take the form of large installations, or even a painting or sculpture. Sometimes humble, everyday objects can also be art. For the colonists who made the Presidio their home in the 18th century, some of the ceramic dishes they used every day were actually pieces of art.
For instance, one type of ceramic common in the Presidio during the Spanish Colonial period (1776 to 1821) was called Majolica. This style of ceramic has its origins in Europe and was brought to the Americas by the Spanish in the 16th century. Some of the earliest art guilds ever established in the Americas were established to make Majolica, and our archaeologists have found various fragments of Majolica around the Presidio, including the Aranama Polychrome (above), and Puebla blue-on-white Majolica (below), which was found in the area behind the Funston Cottages in the late 1990s.
Collections intern Ernesto Perez (above) began working at the Presidio in July. As an undergrad, he studied anthropology and classical languages and is currently working on a masters in museum studies and business administration. His favorite thing about archaeology is how it's able to tell stories "that are brought to life through visible objects, as well as words."
Of Majolica, Ernesto explains, "It's been making dining experiences exciting for hundreds of years. And the best part? You don't have to travel back in time to have a piece of Majolica," he shared. "Majolica artists are still around, making impressive examples of Majolica tableware – like plates and bowls." There's a long tradition within the creation of Majolica ceramics and some of the same families that first established the early art guilds still participate in the creation of Majolica today.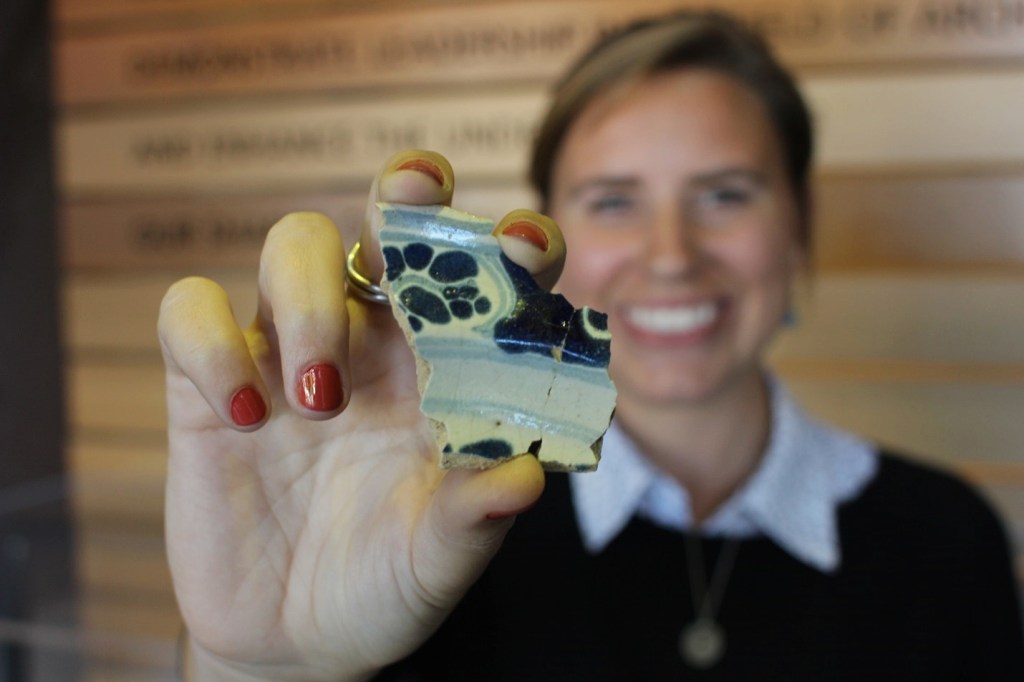 ​Presidio archaeology intern Claire Yancey studied history and Russian as an undergrad, and she has her masters in archeology. She's been with the Presidio since March. "I became interested in archaeology because there's always something new to discover," she explained. "Everything, no matter how small, teaches us about the people who came before us."
Claire sees these Majolica ceramics as art and a reminder of our ties to history. "Growing up, my family had three sets of dishes: plain white, white with green flowers, and beige with brown flowers," she shared. "When it was my turn to set the table, I always picked the white and green dishes. They weren't flashy, and back then I would never have thought of them as art, but I loved setting them out just so, matching them to our green placemats and floral silverware. The Puebla blue and white Majolica reminds me of these dishes – I'd like to think that hundreds of years ago, some other little girl picked them out each night as she set her own family's table."
The archaeologists and interns of the Presidio are not the only ones who think of Majolica as art. Majolica is actually in the same family as many other decorative ceramics, including Talavera from Italy and Delft ceramics from the Netherlands. There are people all over the world who seek out and collect Majolica, and you can even find it featured on Antiques Roadshow from time to time.