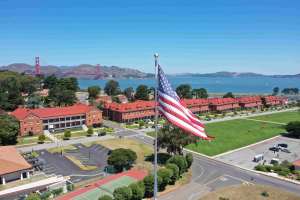 Presidio of San Francisco (August 20, 2008) — The public has two more opportunities to get an up close guided tour describing proposed plans to revitalize the heart of the Presidio: the historic Main Post. The last of a series of free Main Post walking tours will be held at 2 pm on Sunday, August 24 and Wednesday, August 27, at the Presidio Officers' Club. The tours were originally scheduled to end in July, but were extended due to their popularity. More than 1,000 people have taken part in the walks since they began more than two months ago.
The Main Post is the birthplace of San Francisco, where the original garrison was established by Spain in 1776. With more than 100 buildings, it is a small town center that complements the park's forest, trails and open spaces. The Main Post was once the social and administrative center of the Presidio. Archaeological sites, historic architecture, and parade grounds recall the generations of soldiers that shaped the military post over the course of two centuries.
During the 90-minute walks, guides describe the Main Post's history and discuss ideas for returning it to its former vitality. The Presidio Trust is weighing a variety of proposals to revitalize the Main Post as the heart of an urban national park, reveal its history to visitors, and create a home for art and culture. Proposed projects include a heritage and archaeology center, a park lodge, reuse of the historic theater, and a contemporary art museum.
The final two walks will be held Sunday, August 24 and Wednesday, August 27. The tours leave from the Presidio Officers' Club, 50 Moraga Avenue, at 2 pm and end at 3:30 pm. There is no charge for the walks and no RSVP is required. Layered clothing and comfortable shoes are recommended. Group and special request tours are available on request.
The public is invited to share their comments on proposals for the Main Post through September 19 tomainpost@presidiotrust.gov. The draft plans are available for review.
The Presidio Trust was established by the United States Congress in 1996 to manage the Presidio of San Francisco, a former army base located at the base of the Golden Gate Bridge. The 1,500-acre site contains the infrastructure of a small city as well as expansive open space, a 300-acre historic forest, spectacular views, and rare and endangered plants and wildlife. It comprises nearly 6 million square feet of buildings, including 469 historic structures that contribute to its status as a National Historic Landmark District, making it unlike any other national park. In establishing the Trust, Congress mandated that it make the park financially self-sufficient by 2013. The Trust is the only federal agency with this mandate.