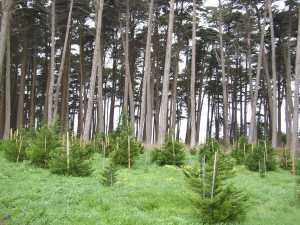 Presidio of San Francisco (May 4, 2009) — The Presidio Trust is introducing a new, monthly volunteer opportunity that will give the community a chance to help care for the historic Presidio forest. Beginning Friday, May 8, 2009 volunteers will assist with maintenance of reforestation areas through weeding, mulching and other activities.
"Volunteers play a valuable role in helping ensure the young trees grow into a thriving, healthy forest," says Jenny McIlvaine, volunteer coordinator for the Presidio Trust.
Planted by the Army in the late 1800s, the Presidio forest is the most dramatic example of how people shaped the park's landscape. Now more than 100 years old, the forest provides a habitat for birds and wildlife, and contributes to the Presidio's National Historic Landmark status.
In the last several years, the Trust has undertaken an ambitious effort to revitalize the historic forest, replacing aging and unhealthy trees with hundreds of young trees, primarily Monterey Cypress, Monterey Pine and Coast Redwoods. Each year, the Trust forestry crew replants two to three acres, staggering the planting to create an uneven-aged forest that can be more easily sustained. Since 2002 nearly 2,000 trees have been planted, while the qualities that define the forest's character, such as the orderly military alignment of trees have been preserved.
Under the direction of the forestry crew, volunteers will assist with ongoing stewardship of five reforestation sites in the Presidio– near Julius Kahn playground; the Presidio Gate; the Arguello Gate, which is also the site of the Goldsworthy Spire; the Presidio's Infantry Terrace neighborhood and the World War II memorial. Volunteers will primarily be responsible for weeding and mulching around recently planted trees, re-staking trees, cleaning up trash around the sites and other general maintenance activities. No experience is necessary and all needed tools and training will be provided.
The Forest Stewardship Volunteer Program begins Friday, May 8 and runs the second Friday of every month from 9 am to noon. For more information on how to volunteer, including meeting locations, contact the Trust's volunteer coordinator at (415) 561-5333 or emailvolunteer@presidiotrust.gov. To learn more about the Trust's reforestation efforts visit Ecological Restoration and Stewardship. To find out about other volunteer opportunities at the Presidio visit Volunteer.
The Presidio Trust was established by the United States Congress in 1996 to oversee the Presidio of San Francisco, an urban national park located at the base of the Golden Gate Bridge. The 1,500-acre site contains expansive open space and spectacular views, a 300-acre historic forest, and rare and endangered plants and wildlife. It also comprises nearly 6 million square feet of buildings, including 469 historic structures that contribute to its status as a "National Historic Landmark District."