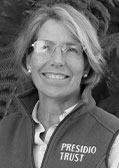 Jean S. Fraser, Chief Executive Officer, has dedicated her career to fostering healthy, equitable, and sustainable communities. Under her leadership, the Presidio Trust has restored dozens of acres of park land, opened the award-winning Presidio Tunnel Tops, and run profitable real estate and hospitality businesses that fund the park. Previously, Jean was Chief of the San Mateo County Health System and CEO of the San Francisco Health Plan, which developed a first-in-the-nation program providing affordable health care to all uninsured San Franciscans. She also served as a Deputy City Attorney in the San Francisco City Attorney's Office. Jean serves on the boards of KQED, SPUR (San Francisco Planning + Urban Research), and The Climate Center. She is a graduate of Yale University, and Yale Law School, and the National Outdoor Leadership School (NOLS).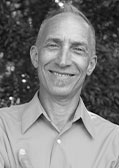 Michael Boland, Chief Park Officer,  joined the Presidio Trust in 2001 and has played a key role in transforming the Presidio from a historic Army post to a world class national park site. Under his leadership, his team created a comprehensive trail and overlooks network, restored the Presidio's rich mosaic of natural and cultural landscapes, and established national park experiences that serve urban youth. The Presidio's transformation reached a high point with the 2022 opening of Presidio Tunnel Tops, 14 acres of trails, gardens, overlooks, and youth play spaces built atop a reclaimed highway tunnel. Michael has also played a role in the transformation of the Golden Gate National Recreation Area, America's largest and most heavily visited urban national park. Between 1990 and 1997, was Director of Park Projects for the Golden Gate National Parks Conservancy. His projects included the transformation of Crissy Field, the Alcatraz Island Master Plan, the National AIDS Memorial Grove, and planning the Presidio's initial transition from Army post to national park. Michael holds a bachelor of arts in architecture, a master's degree in landscape architecture, and a master's degree in city and regional planning from the University of California at Berkeley.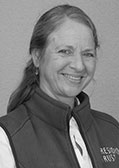 Catherine (Cathy) Langridge, Chief Financial Officer, joined the Presidio Trust in 2022. She brings more than 25 years of financial experience in companies large and small. She was Levi Strauss's Global Retail Division Chief Financial Officer, Vice President of Finance for Sephora, Vice President of Finance during the Initial Public Offering for Stitch Fix, and the Chief Financial Officer for Recology, a 100% employee-owned environmental services organization. Cathy is recognized for building superior relationships with her business partners through a shared vision of an organization's future. Respected for her direct and honest approach, she inspires action while being grounded in data. Cathy has a deep commitment to science and conservation. She serves on the board of the Oakland Zoo, spent eleven years on the Board/Advisory Committee for the Astronomical Society of the Pacific, and lectured on astronomy with the California Academy of Sciences. Cathy holds an MBA from the University of California at Berkeley and undergraduate degrees in music and physics.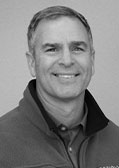 Rich Rusnack, Chief Business Officer, is a seasoned real estate and financial leader who had driven success in a variety of sectors. He spent 10 years as a retail and real estate development entrepreneur in the Midwest, including sent five years as an asset manager for The Habitat Company in Chicago, supporting the acquisition, development, and management of high-rise multifamily residential properties. Beginning in 2009, he managed Rudd Properties, Inc. for the Leslie Rudd Investment Company (LRICO). Over seven years, he was active in managing LRICO's operating companies, including Dean + Deluca and Standard Beverage Corporation. After serving as CFO, COO, and then President of Standard Beverage Corporation, Rich become a contract CFO for distribution and real estate technology companies. Rich has served multiple Bay Area companies — as interim President/COO at MacPherson's, interim CFO at Guideboat Co., and full-time CFO at Flux (acquired by Density.io), a construction technology company founded by Google X. At the Presidio Trust, he oversees the park's commercial, residential, and hospitality real estate assets. Rich holds a B.A. from Colby College and an M.B.A from the Kellogg School of Management at Northwestern University.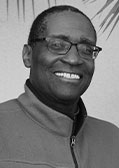 George K. H. Schell, General Counsel, began his career in 1984 as a Staff Attorney for the Ninth Circuit Court of Appeals in San Francisco. He was a litigation associate at Steinhart + Falconer, a Deputy City Attorney and Chief of General Litigation for the San Francisco City Attorney's Office, and General Counsel for the Oakland Athletics. In 1996, he began a two-decade career as a business manager and legal counsel at The Coca-Cola Company in Atlanta, ultimately serving as Chief Marketing Counsel for Coca-Cola North America. George's public service background includes serving as Chairman of the Board of the Advertising Self-Regulatory Council and as a Director and Chairman of the Board of the Council of Better Businesses Bureaus. He is also a member of the Advisory Board for the Smithsonian Institute's Center for Folklife and Cultural Heritage. In 2016, he received the first-ever Diversity Legacy Award from the California Minority Counsel Program and Villanova Law School's Charles Widger Award for Outstanding Public Service and Professional Excellence. He holds a B.A. in political science from U.C. Santa Barbara and a law degree from UCLA.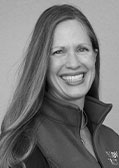 Diana Simmons, Chief Operating Officer, was born and raised in northern California and has spent her career focused on purpose-driven organizations. She began working in non-profit environmental policy and consulting in air quality, land use, and transportation technology in both California and Boston. She spent 15 years at Clif Bar + Company where she drove brand management, launched new products, led the sustainability team to assess impacts from the field to the final product, and built and led the company's cross-functional new product commercialization launch process. As Chief Operating Officer, she leads marketing communications, government affairs, administration + procurement, IT, and the Project Management Office. She holds an undergraduate degree in human biology and an M.B.A from Stanford University and is an Aspen Institute First Movers Fellow (class of 2011-12).