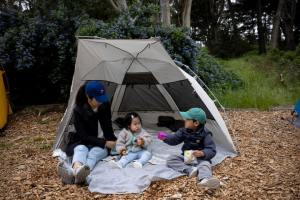 Reservations for the 2023 Monarch Week Pilot Program are available during the following designated program dates:
April 23 to 30
May 21 to 28
June 18 to 25
July 23 to 30
August 20 to 27
September 17 to 24
October 22 to 29
All other dates during the 2023 the camping season will be available to the general public for reservation via Recreation.gov following the policies set forth.
Campsite requests for the Monarch Week Pilot Program will be processed on a first come, first served basis. The Presidio Trust cannot guarantee that an organization's preferred camping dates will be available.
Eligible organizations may request:
Up to 4 consecutive nights of camping per reservation.
Up to 4 campsites per reservation.
Up to 2 reservations per camping season.
Requests for additional camping reservations may be granted at the discretion of the Presidio Trust if there is low demand from other eligible organizations and availability permits.
Eligible organizations must notify the Presidio Trust of cancellations or request that a reservation be rescheduled by emailing camp@presidiotrust.gov.
Whenever possible, eligible organizations should cancel reservations or submit a request to reschedule at least two weeks in advance. This will provide Presidio Trust staff enough notice to make the campsites available for general public reservation.
Eligible organizations that provide no notice of cancellation and fail to arrive on their scheduled check-in date ("no show") may be ineligible for future reservations through the Monarch Week Pilot Program.
Eligible organizations may only reschedule a reservation to another designated program date within the same camping season as the original reservation. Rescheduled reservations are subject to availability.
Monarch Week reservations will be held to the  Terms and Conditions for Use of the Rob Hill Campground.
The booking rules and designated program dates may be evaluated annually to determine how well the Monarch Week Pilot Program is meeting the needs of eligible organizations. Adjustments to the booking rules and designated program dates may be made in response to these evaluations when feasible.