​​​​​​​​​​​​​Artist and Presidio Activator Favianna Rodriguez created a beautiful, colorful piece of art at the Presidio Tunnel Tops Outpost Plaza. "It's called Ancestral Futurism, and it's meant to celebrate this region pre-colonization when the Ramaytush Ohlone were the stewards for this land, and when creatures and this ecosystem thrived." Read a brief interview with Favianna where she talks about how she hopes visitors will experience her art and come see it for yourself when Presidio Tunnel Tops opens, starting Sunday, July 17.
Photo of Favianna (center) with staff from the Partnership for the Presidio.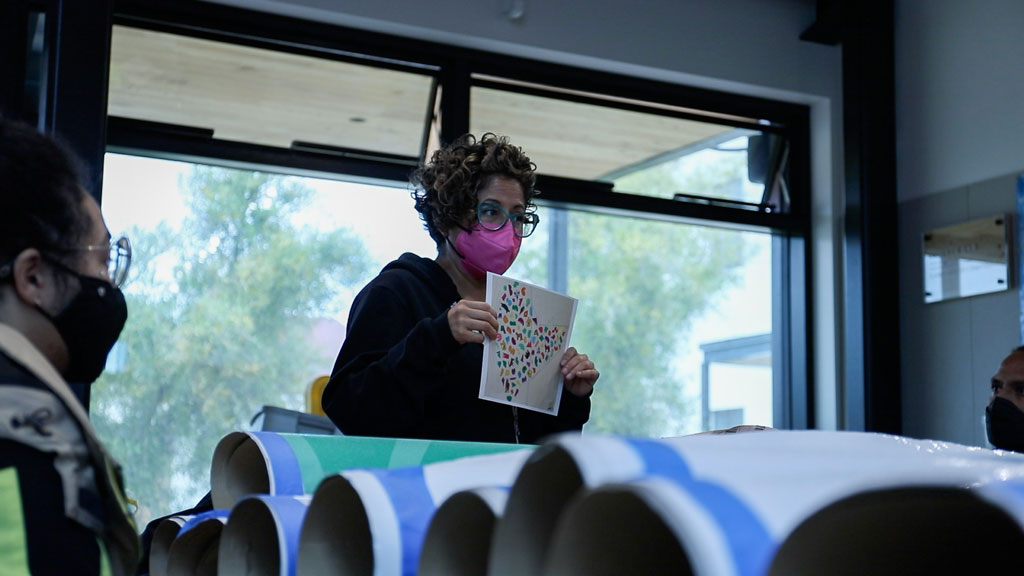 Why did you get involved with the Presidio Activator Council?
I was really honored to be invited to be an activator. I grew up in the Bay Area my entire life and I'm an environmental activist, and I just had never received an invitation to participate in projects with a national park. So when they approached me, I said, "Yes!" And now I get to do a beautiful art project!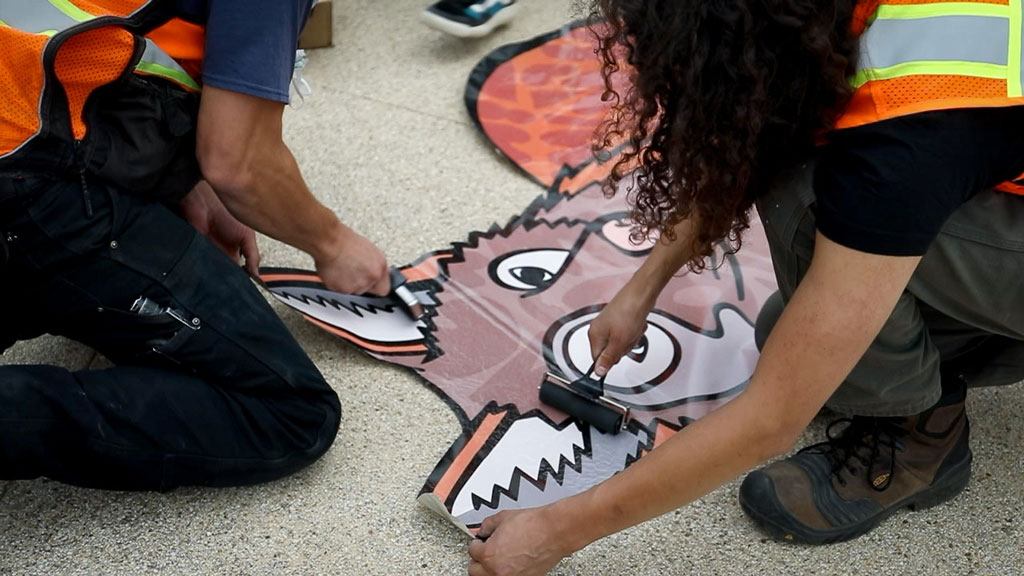 Tell us a little bit about the artwork – what is your vision?
My vision is to literally bring color to the space and thus make the space more welcoming and inclusive. My goal is also to honor all the creatures that once existed here – the grizzly bear, the mountain lion, the pond turtle – and to honor the biodiversity of this region by using color. Color disrupts the sterility of spaces, and I love the joy it brings out in people.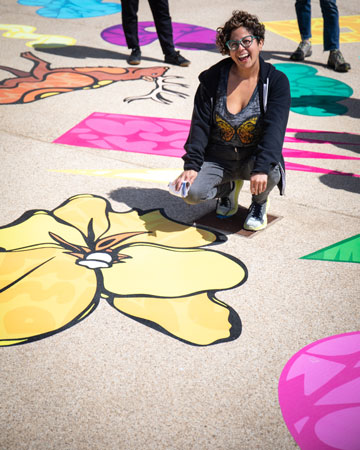 When kids – both big kids and small kids – come to this area of the park, what do you want their experience to be like?
I want them to feel joyful and playful. I want them to interact with the art and to think about the creatures that once roamed these areas. Already I've seen kids jumping from shape to shape as if it was a game. My hope is that people feel inspired and connected to the natural world and to this area, as well as to honor and call forth the spirits of the creatures and species that once lived here.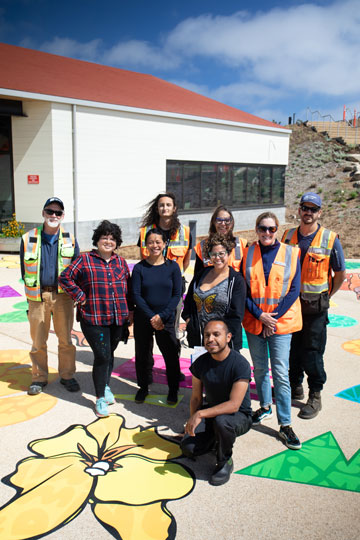 How do you feel about Presidio Tunnel Tops?
I'm incredibly excited about Presidio Tunnel Tops! I've gotten to walk around and spend a lot of time in this area. I love the campfire circle, I love the stunning views, and I mostly love the Outpost nature play area, which is also a fun place for adults to act like kids and have fun!"
Staff from the Presidio Trust, the National Park Service, and the Golden Gate National Parks Conservancy helped Favianna install her artwork at Presidio Tunnel Tops' Outpost Plaza in late June.
Read more about Favianna's art >>
Learn about the Presidio Activator Council and Community Voices that contributed to Presidio Tunnel Tops >>