​Oysters are a delicacy found in virtually every seafood restaurant in San Francisco. But you may not know that the oysters you eat in San Francisco restaurants aren't local to the City. Though San Francisco's native Olympia oysters (Ostrea lurida) can be found in other regions – for instance, Seattle's Puget Sound – due to overharvesting and pollution of San Francisco Bay during the Gold Rush era, by the 1860s native Olympia oysters (Ostrea lurida) had all but disappeared locally. But there are people at the Presidio Trust with the dream of bringing these native oysters back to the Bay.
Dreaming of a Sea of Oysters
The Presidio's Natural Resources team works to enhance ecological health and diversity in the park, which can include reestablishing once-lost native species back into the Presidio, like Olympia oysters. Olympia oyster larvae were recently discovered in Crissy Marsh at the edge of the Tennessee Hollow Watershed. While this isn't unusual – Olympia oyster larvae are still naturally abundant in the San Francisco Bay – the young can't survive and flourish without a suitable habitat in which to attach and grow their shells.
To learn more about a project underway here in the park to reestablish these oysters, we spoke with Presidio Trust Natural Resources Biological Science Technician Bridgette Haggerty. "The fact that the oyster larvae were already there in the Bay water on their own was a good sign," Bridgette explained. "This provides a great opportunity for us to be proactive about helping this native species thrive." Her team's goal is to reestablish Olympia oysters in the area near the watershed, but first they need to develop a welcoming habitat for the species.
Shell Collecting
The tiny oyster larvae – floating out in the Bay as we speak – need to attach to something before they can transform into the hard shelled, muscly oysters we know and love. For the Natural Resources team, that "something" is a reef made of recycled oyster shells from some of the most beloved restaurants in San Francisco.
As part of this project, Bridgette collects shells bi-weekly from local restaurants, soaks the shells in bleach, and steams them until they're pathogen-free. It doesn't matter what sort of oyster shells they are – they just need to be 100% pathogen-free so they don't spread disease to the oyster larvae. Altogether, the team needs approximately 20 cubic yards worth of shells before they can begin the next step of the process.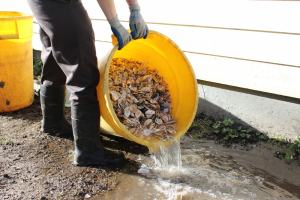 Building an Oyster Reef
So far Bridgette has collected about a third of the oyster shells needed, but once the Natural Resources team has enough shells, they'll produce the reef habitats with the collected shells. With this reef, the Presidio will have a new habitat where Olympia oysters can thrive and contribute to a healthier San Francisco Bay.
At the moment, conservation groups are taking note on how the Presidio is partnering with local restaurants, and Bridgette and her team are hoping this process of collecting shells and developing oyster habitat will live on long after this project is complete. "I'm looking forward to getting volunteers involved and providing educational opportunities for school groups, too," Bridgette shared. "The idea that the Presidio's Natural Resources team's restoration efforts can create a positive impact on the entire Bay is very exciting for us."
The Presidio's role is just one small part within a huge Bay Area initiative called The Bay Area Living Shorelines Project. The park's restoration efforts for this project are made possible through donations received from our Bay Area restaurant partners – a big thank you to Absinthe Brasserie & Bar, Boxing Room, Waterbar, Woodhouse Fish Company, and Zuni Cafe for separating, storing, and letting the Natural Resources team collect their used shells. If you're a restaurant interested in donating shells, contact bhaggerty@presidiotrust.gov.
Learn more about volunteering to help with our restoration efforts.​