The Presidio​ is proud to host the only West Coast appearance of Annie Leibovitz's latest exhibition, which will make stops at just 10 cities around the globe. On the opening day we asked visitors, "What struck you most about this exhibition?"

WOMEN: New Portraits is free and open through Sunday, April 17, 2016. No tickets are require​d…just come on out and queue up!
Dennis Hearne (North Beach, San Francisco): I went to school with Annie at the San Francisco Art Institute. In photography, I look for quality of light and the spirit of a person. Sometimes with a lot of studio people working with you, it can be harder to get there. But the images that are more homey are the ones I prefer.
​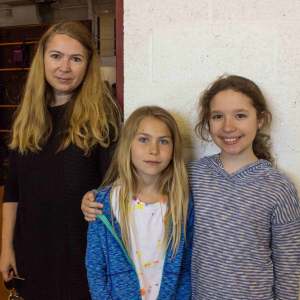 Yustina Yurkova (St. Petersburg, Russia, age 10, but 11 in a month!): I guess I liked the naked lady from New York.
Nika Goroshko (Palo Alto, 10…and two days older than her cousin Yustina): I like the picture of Jane Goodall. I recently read her book and really like her.
Natalie Goroshko (Palo Alto, Nika's mom): Of course, I liked the dancer. And I liked the picture of the concert gown of Marian Anderson because she was my mother's favorite singer. She actually came to Russia in the late 1960s or 1970s, and mom always told me about that concert and the range of Marian Anderson's voice. It was very touching to see the picture of her gown. Momma's gone, but it brought the memories back.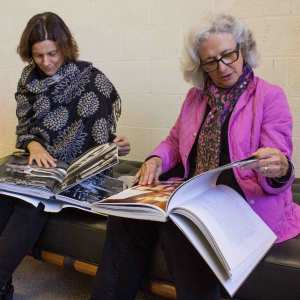 Tish Paschall (Palo Alto): It actually made me cry, watching all the slides. There were all these different women, and all the different expressions of their lives at all their different ages. There's just so much magnificence and power in it. It just really made me cry. Everything together – that's what struck me.
Ashley MacMillan (Berkeley/Israel): Initially, I was trying to identify a lot of the people, and in the end, it really didn't matter who was in the image. I think that's what's so interesting. We have this draw to know who's in the portrait, and whether they're famous, but actually the photographs are so powerful without knowing who it is.
​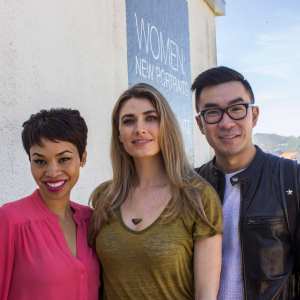 Moanalani Jeffrey (San Francisco): I really like the large-scale portraits. She's done a lot in the fashion magazines with elaborate set ups and a really large group of people. And I love the emotion she captures in people. It could be any subject – emotions are a big thing.
Ellian Raffoul (San Francisco): I like how she captures strong women in their day-to-day environment. This is inspiring to me since most people would prefer to see the glamorous side to everything. They don't see these people are actually working and the things they're walking into every day.
Kai Tan (San Francisco): I was sitting there just ten minutes ago and the thing that captured my attention is her work in fashion. I recognize​d, oh, that's my queen! Like Daphne Guinness – I love her!