With a picnic area, BBQ grills, accessible restrooms, and a big stretch of sand, Baker Beach is a favorite spot for locals and visitors. On warm days and weekends, it's a good idea to arrive early. The parking lot at Baker Beach and the nearby parking lots on Bowley Street will fill up quickly.
Golden Gate Views
Baker Beach is one of the closest beaches to the Golden Gate Bridge, so it's the perfect place to take in iconic views. From Baker Beach, you can get a view of waves breaking in front of the bridge — with the Marin Headlands in the distance — all in one snapshot.
Sand Ladder at Baker Beach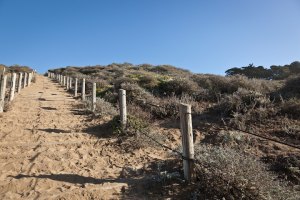 If you're up for an adventure, go to the north end of Baker Beach and try scrambling up the Sand Ladder, which connects to the California Coastal Trail and the Batteries to Bluffs Trail.
Dog Friendly
Dogs are welcome at Baker Beach. Just make sure your dog is on leash while you are visiting, and bring any supplies you'll need to clean up after them.
Beach Activities
Baker Beach is one of the best spots in San Francisco for sunbathing, picnicking, and grilling. But be extremely cautious in the waves, as the water is chilly and the currents and riptides can be powerful, even for experienced swimmers.
Trails and Hiking
Baker Beach hikes include a connection to the California Coastal Trail, which you can access from either the Baker Beach parking lot or from the Sand Ladder at the north end of the beach. For a more rugged adventure, turn off the California Coastal Trail onto the more challenging Batteries to Bluffs Trail.
Viewpoints and Landmarks
Close to the Baker Beach parking lot, you can explore Battery Chamberlin, which holds a giant 50-ton 'disappearing gun.' Or take a short stair-step hike up the hill to Immigrant Point Overlook, a tranquil resting place with elevated views of the Pacific Ocean and the Marin Headlands.
Baker Beach Sunsets
Baker Beach has one of the best sunset views in San Francisco. Settle in to enjoy as the sun reflects on the Golden Gate Bridge. If you're planning to watch the sunset, make sure to bring a blanket and extra layers with you to fully enjoy those spectacular Baker Beach Golden Gate Bridge views.