The Presidio is divided into two areas: Area A, which includes the northwestern coastline, and Area B which includes the interior lands.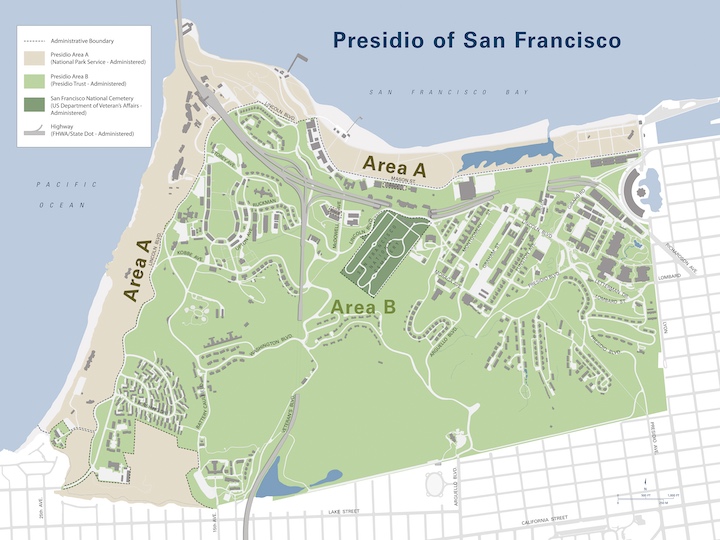 The Presidio Trust allows the launching, landing, and operation of drones in parts of Area B of the Presidio, provided they are operated safely and in accordance with the law, including the Trust's regulatory prohibitions. Operators must also comply with public use limits and obtain permits for commercial use.
Drones refer to any device used or intended to be used for flight in the air without the possibility of direct human intervention from within or on the device and the associated operational elements and components required for the pilot or system operator in command to operate or control the device (such as cameras, sensors, communication links). This term includes all types of devices that meet this definition (e.g., model airplanes, quadcopters, and drones) used for any purpose, including for recreation or commerce.
Operating Drones Inside Area B: Public Use Limits
All drones in the Presidio must be operated safely and in accordance with the law, including the Trust's regulatory prohibitions on frightening or disturbing wildlife; injuring, or destroying cultural resources; or creating a public nuisance. Drones are not allowed to fly over people or crowds.
Launching, landing, or operating drones in the park is allowed in the following areas:
Main Parade Lawn
Graham Street Lawn
Civil War Parade Ground
Due to public safety and visitor conflict concerns, the Trust may restrict operation of unmanned aircraft at certain permitted special events.
The Trust embraces many activities within the natural, historic, and cultural landscapes in Presidio Area B that enhance visitor experiences. These restrictions are necessary to avoid adverse impacts of noise and nuisance, for park visitor safety, and wildlife protection.
Commercial Use of Drones
1005.3 Business operations states that "engaging in or soliciting any business in Presidio Area B is prohibited, except in accordance with a permit, contract or other written instrument with the Presidio Trust." This includes the commercial use of drones in the park.