Freedom of speech, press, religion, and assembly are rights protected by the First Amendment of the United States Constitution. The Presidio Trust respects and protects the peaceful exercise of these rights, while complying with our obligation to safeguard park visitors and resources and manage the park's assets.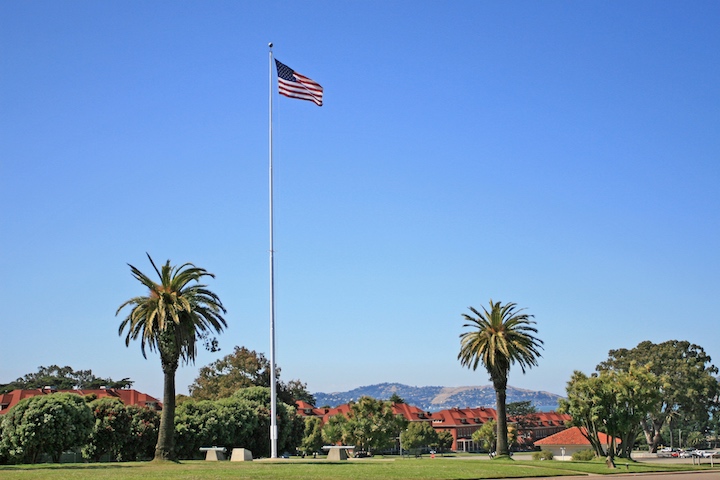 First Amendment Permits in Presidio Area B
The Presidio Trust has developed a permit process to establish the location, time, and other general conditions under which First Amendment activities may occur in Area B of the Presidio (the park's interior lands).
Please email us at outdoorevents@presidiotrust.gov to obtain an application or if you have questions related to First Amendment permits.
When a Permit is Required in Presidio Area B
Generally, a permit is required for First Amendment activities that meet any of the following criteria:
At locations that require a permit shown on our First Amendment map. Groups larger than 25 participants
Unreasonably interfere with other permitted events or park program activities
Involve stages, platforms, or other structures
Would like a guarantee of priority use of a specific location
Requesting an area not otherwise open to the public
Groups of 25 people or less are generally not required to obtain a First Amendment permit, provided the group meets the criteria above and complies with the Presidio Trust's First Amendment regulations at 36 CFR 1002.51 (for demonstrations) and 1002.52 (for the sale or distribution of printed matter).
Examples of First Amendment activities include:
Religious services
Political speeches
Press conferences
Voter registration drives
Picketing, assembly, or rally expressing opinions and views
Leafletting
Type of activities not covered by the First Amendment include:
Picnics
Social gatherings
Wedding ceremonies or receptions
Political fundraisers or other invitation-only political activities or events
Community parades, athletics, or sporting events
First Amendment permits are issued at no cost to the permittee. Many of the activities not covered by the First Amendment can be accommodated through a Special Use Permit for which cost recovery will be charged.
The Presidio Trust's actions on First Amendment permits will not be based on the content of an applicant's message or opinion expressed. The Presidio Trust will neither encourage nor discourage, or otherwise endorse, First Amendment activities.
First Amendment Permits in Presidio Area A
The National Park Service Special Park Uses Group (SPUG) manages the permitting process for First Amendment activities in Presidio Area A, including Crissy Field.