Fine art painter Felicia Gabaldon was selected to be the second of three artists to install artwork at Presidio Tunnel Tops as part of the Presidio Public Art Mentorship program.
In Iconic Visions, Felicia created large-scale ground murals of images of Presidio creatures like coyote, quail, and Monarch butterfly. They are now on view in between the Outpost playground and the Field Station.
Felicia is originally from Santa Fe, New Mexico, and currently resides in Oakland where she is resident artist at Faultline Artspace. She uses nostalgic illustrations to manifest the natural beauty of the American Southwest while also re-examining it.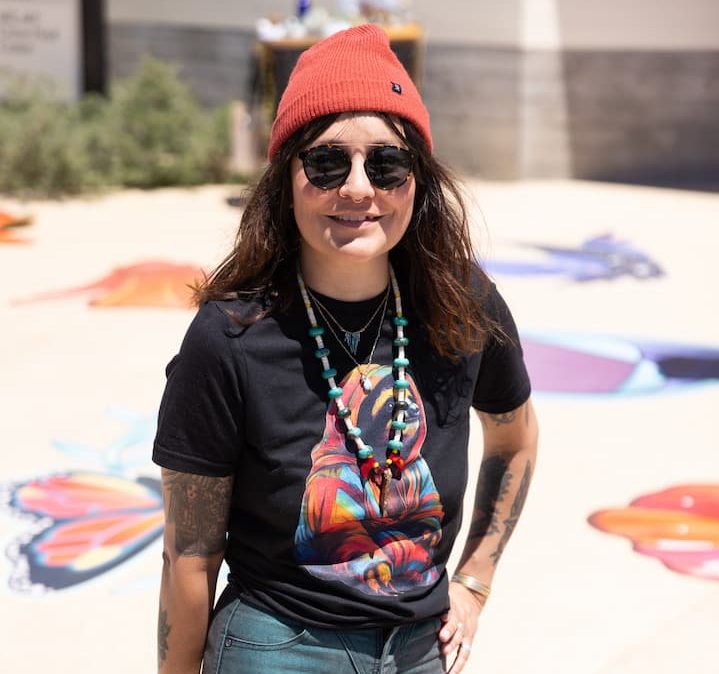 Influenced by desert landscapes drawing from her identity as an American Indian of the Choctaw Tribe with Spanish Heritage, her paintings represent a distant reverence of self-discovery, culture, and history. Her art can be seen in galleries in San Francisco or as far away as the ARTSCAPE SAGA urban art project in Gothenburg, Sweden.
Says Felicia: "Moving to the Bay Area was very inspiring in terms of the art landscape in a big city. I started to gather inspiration from this space as well as New Mexico. Finding my voice allowed me to express myself culturally and indigenously. I hope that when people see my art, they also feel welcome to express themselves."